Queensborough Art and Design Department Visiting Artist Series Presented Artist Oasa Duverney
'hello' in smallish simple black type face on a white screen was Oasa Duverney's greeting, the sentiment was echoed in her own soft-spoken tone when she welcomed her audience, students and guests of host, Professor Freya Powell of the QCC Art and Design Department. Duverney had composed a free verse poem to go with her opening images: the first, a black and white drawing of Albert Einstein adjacent to a black and white drawing of Al Sharpton. "Two Als walk into a bar", she announced.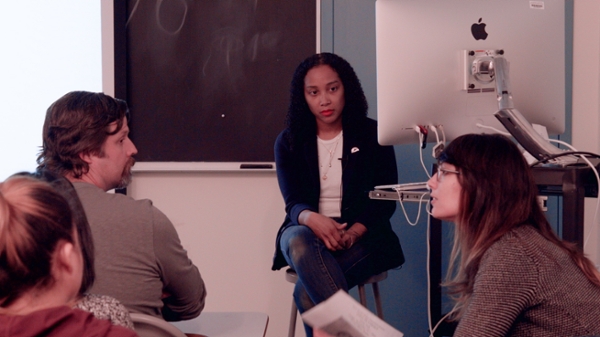 Photo by Ken Powell
Duverney, though petite in frame and to the right of the spotlight, is a remarkable presence. She is sharp, dry-humored and matter-of-fact, she is also female, a person of color, a working artist and a parent and speaks clearly and passionately of and from her experience. Duverney draws. Primarily graphite and ink on paper, her work is deliberate and often politically charged. Her talk began with a collection loosely considered deconstructing the white male, to include Carl D Perkins, Warren Buffet and Vladimir Putin. It was a series she considered a "failure "or at least one in which she lost interest. The point, however, was how the work itself impacted her, where it took her; she spoke of response, catharsis, protest, resignation and significantly, opening up new series that re-engaged her artistically.
Photo by Ken Powell
The Portrait of Renisha McBride (2014) is one of Duverney's most profound. A non-fussed drawing, McBride is depicted smiling through a slightly irregular grid; it is representative of the 19 year old black female's 2013 murder. McBride was shot through a screen door because the homeowner, a white male, thought she was an intruder. In unassuming fashion Duverney opens up a subject at once plain and pressing and grotesquely human. Our inability to look beyond, our fixed views, is incomprehensible. Taking the better part of a year, Duverney followed with the monumental … For Renisha McBride, (2014). A 5'x13' sheet of paper fully covered in graphite, labored to an aggressive sheen with text cut into it reading THERE IS NO UNIVERSE. It is magnificent.
Duverney's work undoubtedly resonated with all present. She broached topics of marginalization, gentrification, how to be less of a problem, our ability to not recognize our own status, media, gun violence, capitalism and the myth of the starving artist. She spoke candidly of her start as an artist and everyday practicalities to being an artist. Simply figuring out what hours you are most productive is a start. She advised young artists; art is not about making people feel good about themselves, no matter what you end up doing professionally keep on making art, use the voice you have and think of others in what you do.
Photo by Ken Powell
Duverney collaborates with artist Mildred Beltre and their community in projects authored by the Brooklyn Hi-Art Machine. Woven into the north and south side fences of a bridge in Crown Heights are rotating quotes WE ARE STILL HERE (2012), HOPE LESS DO MORE (2013) DO NOT DISAPPEAR INTO SILENCE (2014). Another neighbor heard from Mr. Thomas. QCC is fortunate and grateful to have hosted Ms. Duverney.
A. Coffey 11/16