Queensborough Art and Design Department Visiting Artist Series Presented Artist Maria Hupfield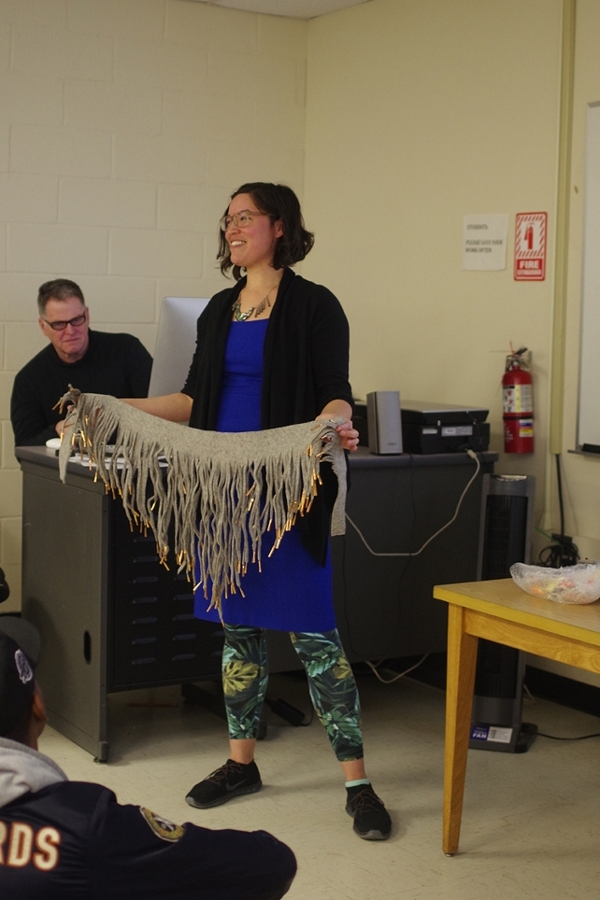 29 March 2016 – It was a full house in attendance for Maria Hupfield, visiting artist and guest of Professor Kat Griefen, herself the head of QCC's Gallery and Museum Studies Program. Hupfield did not disappoint. Standing to deliver she was confident and striking, modest and matter-of-fact in manner with an uncanny knack to engage. She introduced herself in both English and Ojibway, the language of the Anishinaabe Native Americans of Canada. She stated it is a reminder of who I am and where I come from. For the next hour and a half we were treated to who she was, where she came from and where she was headed.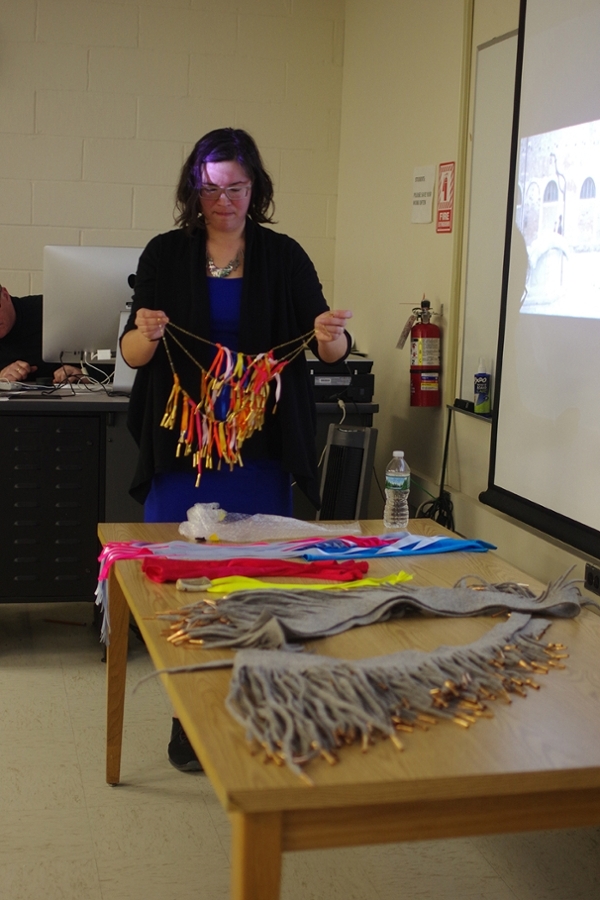 Hupfield can best be described as a maker, though not limited to objects, more aptly, to include experiences. Often her work has a performative aspect and the stationary pieces typically provoke a visceral / auditory response beyond the immediate visual; ultimately inviting a (benevolent) interrogation of time place and face. Material is always a consideration; she gained attention for a "jingle dress" she constructed out of paper as a graduate student. For Hupfield the work is a recontextualization of history. The paper was repurposed, pages taken from a textbook and the garment is modeled after contemporary healing dresses worn by Native women of many nations, originating from the Anishinaabe Nation. She remarked on the textbook's role to record, that we write to forget and our job to question, to take apart and restructure, who is documenting whose history? Significantly, jingles produce sound by making contact with each other, not as single elements like a bell and hammer. Paper as well has an affecting sound, she likes the rustle. The work is now part of the collection on display at the Smithsonian Museum of the American Indian in New York. 
Industrial felt is a recent favorite. Hupfield has constructed a spiraled jingle dress, jingle boots and more ambitiously, a full scale canoe out of felt. The felt is selected for its neutral hue and stance, not flashy, not an overt cultural celebration; it's functional. The role of form and object is equally evaluated. The spiral, as opposed to a circle, is never-ending and does not return to itself. The boots, part of "Survival and Other Acts of Defiance", work made for participation in "Beat Nation: Aboriginal Art and Hip-Hop" are meant to amplify the movement of the feet. There is a familiar or relatable playfulness told and considers the strength of the human spirit. The canoe, meant to be on the water, to be a vessel, when made of felt redefines our expectations. Hupfield performed "Jiimaan" (canoe) in Venice, Italy, coinciding with the Biennale. She performed on land next to a sealed well and carried the canoe, as opposed to be carried. The canoe, listless on its side resembles the proverbial fish out of water.
Far from an arid delivery of this is what I made and this is what it means, Hupfield ambled through with a story-teller's affability. Raised in Carling Township, Canada and now based in Brooklyn, New York her trunk holds many narrative gems. She allows projects to grow organically and her presentation unfolded in a similar fashion. The jingle boots were like the removable felt liners of the snow boots she wore as a child, sliding across the floor of her home. The unencumbered frolic of childhood, was found and retold. The spiral (aside from formal value) once upon a time marked the existence of the creature whose name we do not speak of beneath the waters. She is aware of the impact of written and oral history, objects, context and art and tempers her delivery accordingly. She reminded us that every interaction is an opportunity to activate, demonstrate, redirect, reconcile or realign expectations. How do we want to respond, to have that conversation? There was no shortage of questions or comments it seems Hupfield had emboldened many souls to respond.
– A. Coffey 04/'16