Queensborough Art and Design Department Visiting Artist Series Presents:
Artist Paul Moakley
November 3, 2015, Art and Design C-Building Room 212
Paul Moakley following a student's comment on his presentation.
photo by Gina Minelli
To suggest Paul Moakley "held court" last Monday evening would not be too far off the mark. Moakley, deputy photo editor of TIME magazine and guest of Professor Timothy Hull held his audience captive for well over an hour. Immediately he made himself user-friendly, announcing his roots in Queens, "I was born in Glendale" and telling of his shyness as a young person.
A fortuitous encounter with Mary Ellen Mark's Laurie in the Ward 81 Tub, Oregon State Hospital (1976) was a turning point. Moakley shared the image and it's significance; how he recognized a capacity to relate using a camera, how stories could be told through images. Initially for Moakley the camera was a means of approaching strangers, it was a tool for an otherwise introverted young man to be social. We followed him from photographer to photographer's assistant to his first editing position with PDN. He spoke of stories and ideas close to him, unseen illnesses like autism and illnesses not seen like AIDS at 25 in rural black communities, people in a small town doing good vs. "what feels like a waste of time". Revealing moments from on-site experience, notably traveling to Africa for TIME's Person of the Year, 2014 "Ebola Fighters" or the lighter more colorful glimpse inside a shoot with Donald Trump were told.
Moakley broadened his scope beyond photography, addressing his audience as young artists. The contemporary artistic landscape impacted by the ever widening Internet presence brought up real issues of employment. He spoke candidly of his successes and failures, encouraged students to follow what engages you, expose yourself and learn as much as you can.
Anxious young photographers listen with anticipation to Moakley's career advice.
photo by Gina Minelli
The piece de resistance came at end of the talk, Moakley invited students to sit down with him for a review and discussion of their portfolios. Well beyond the norm, and with great generosity, Moakley looked at the work of every student that approached. His manner was professional and informative. Constructive in his feedback he tailored each review to a personal fit, asking questions about who they look at or what subjects attract them. He pointed out strengths in each body of work, delighting in and encouraging individual propensities that fed the work. Even as an onlooker I felt the excitement of the aspiring young photographers; is this what follows the scent of teen spirit, the gangly youth matures, turning fancies to focus?
Ramsey and colleagues listen intently to Moakley's critique.
photo by Gina Minelli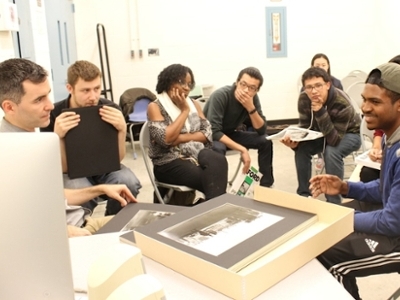 Ramsey smiles shyly after praise from Moakley.
photo by Gina Minelli