NYS Coronavirus Update: New Groups Become Eligible for Vaccine Tomorrow
March 16, 2021.
Dear Queensborough Community College,
As our vaccine supply from the federal government increases, we can expand eligibility to more New Yorkers to keep our vaccination progress moving. Starting tomorrow at 8am, three new groups of New Yorkers will be eligible for the vaccine: public-facing government and public workers, not-for-profit workers who provide public-facing services to New Yorkers in need, and essential in-person building service workers. New Yorkers who qualify in these categories can make an appointment through the Am I Eligible Tool or through the NYS COVID-19 Vaccine Hotline at 1-833-NYS-4-VAX (1-833-697-4829). We're expanding our vaccination network and expanding eligibility so we can get even more shots in arms and go back to the things we love. Supply is limited, but we are forging ahead.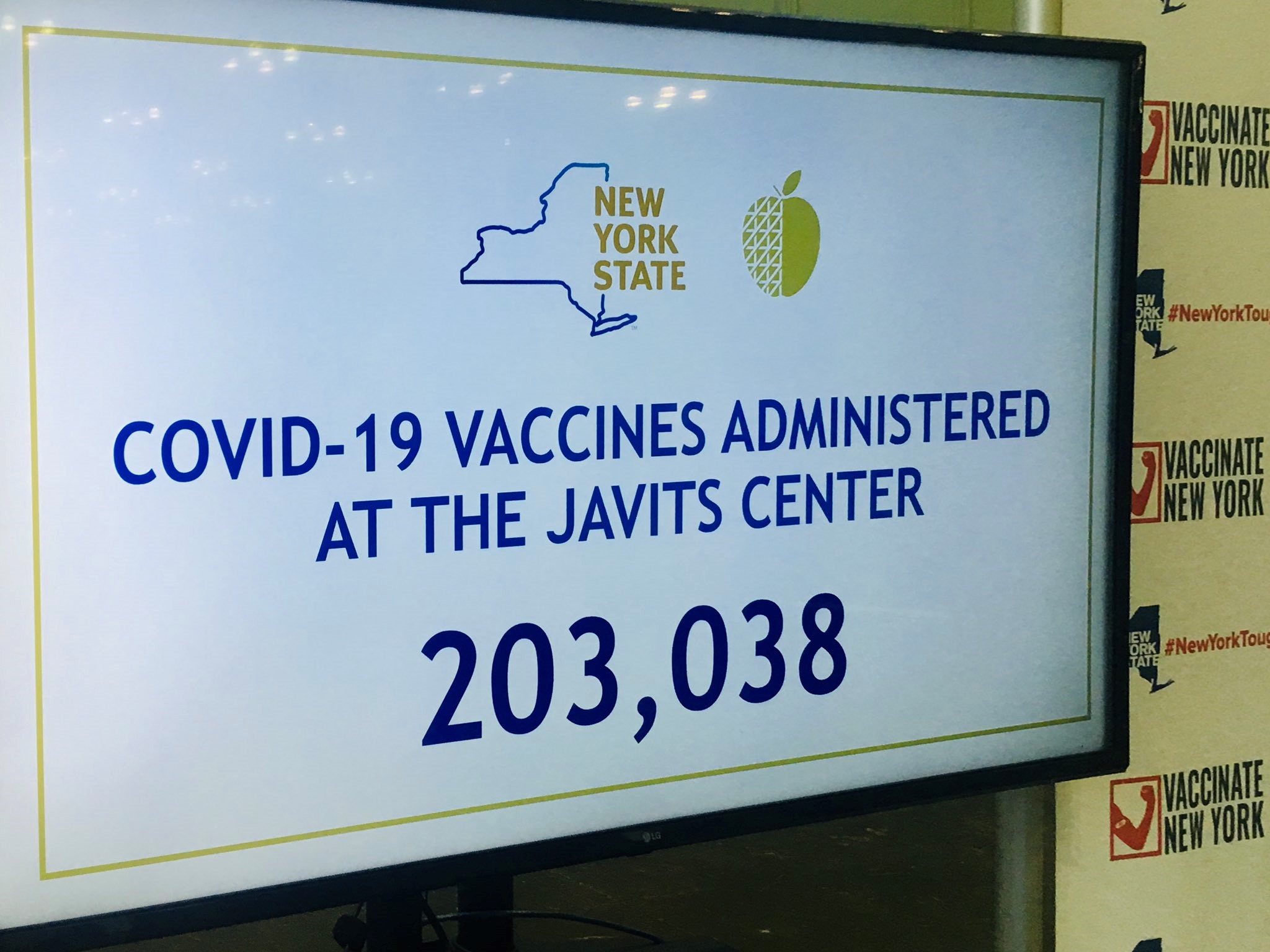 Photo of the Day: Our mass vaccination site at the Javits Center has administered over 200,000 vaccines (Photo courtesy the Javits Center)
Here's what else you need to know tonight:
COVID hospitalizations rose to 4,657. Of the 157,096 tests reported yesterday, 6,508, or 4.14 percent, were positive. There were 943 patients in ICU yesterday, up 20 from the previous day. Of them, 609 are intubated. Sadly, we lost 51 New Yorkers to the virus.

As of 11am this morning, 22.9 percent of New Yorkers have completed at least one vaccine dose. Over the past 24 hours, 134,536 total doses have been administered. To date, New York administered 6,834,384 total doses with 11.8 percent of New Yorkers completing their vaccine series. See data by region and county on the State's Vaccine Tracker: ny.gov/vaccinetracker.

Starting tomorrow, March 17, most vaccination sites will be able to vaccinate any eligible New Yorker, no matter the category. Any vaccine provider will be able to vaccinate any eligible New Yorker, excluding pharmacies, which will focus on individuals over the age of 60 and teachers, in line with federal policy.

Reminder: Scheduling begins at the three new Long Island mass vaccination sites tomorrow at 8am. To expand the State's vaccine distribution network, three new sites will open on Friday, March 19, in Brentwood, Old Westbury and Southampton. Eligible New Yorkers can make an appointment through the Am I Eligible Toolor through the NYS COVID-19 Vaccine Hotline at 1-833-NYS-4-VAX (1-833-697-4829).

The Department of Financial Services issued new guidance for the fair and prompt payment of insurance claims. Claim denials and payment delays for administrative reasons are the last things New Yorkers need in the middle of a public health crisis. The new guidance alerts insurers of new protections for patients. Read more.
Tonight's "Deep Breath Moment": Residents of Hell's Kitchen transformed a vacant storefront into a free store to help members of the community. The Hell's Kitchen store, organized by Chana Widawski and Bailey Sperling, offers small items such as books, unused toiletries, and other small household items available 24/7. Free stores have been popping up in New York City and the newly opened Hell's Kitchen storefront is another example of the compassion of New Yorkers.
Subscribe to New York State's Coronavirus Updates for the latest updates.
Ever Upward,
Governor Andrew M. Cuomo