About National Center for Faculty Development & Diversity (NCFDD)
The Office of Academic Affairs is proud to announce that Queensborough Community College is now a member in the National Center for Faculty Diversity and Development (NCFDD), the first Community College to join NCFDD. Membership provides additional support to our faculty who are already committed to scholarship and excellence in teaching and service. We hope that these resources will support the goals and needs of our faculty.
This membership is made possible by a CUNY OAA mini-grant and with the support of our president, Dr. Christine Mangino, who matched the funds. We hope that this membership will be especially supportive to mid-career faculty seeking promotion.
The NCFDD is an independent faculty development center dedicated to supporting academics in making successful transitions throughout their careers. By becoming an Institutional Member, all faculty at Queensborough will have access to the following member resources at no additional cost:
Weekly Monday Motivator
Monthly Core Curriculum Webinars
Monthly Guest Expert Webinars
Access to Multi-Week Courses
Access to Dissertation Success Curriculum for graduate students
Private Discussion Forum for peer-mentoring, problem-solving, & moderated writing challenges
Monthly accountability buddy matches
Access to 14-Day Writing Challenges
Access to the Member Library that includes past webinar materials, referrals, and readings
Overview of NCFDD Institutional Membership Faculty Development & Support
Activate Your NCFDD Membership
To take advantage of this opportunity, you may activate your confidential, personal membership by completing the following steps:
Choose your institution from the drop-down menu.
Select "Activate my Membership"
Complete the registration form using your institutional email address (i.e. YOURNAME@qcc.cuny.edu)
Go to your institution email to find a confirmation email. Click "Activate Account" in the confirmation email.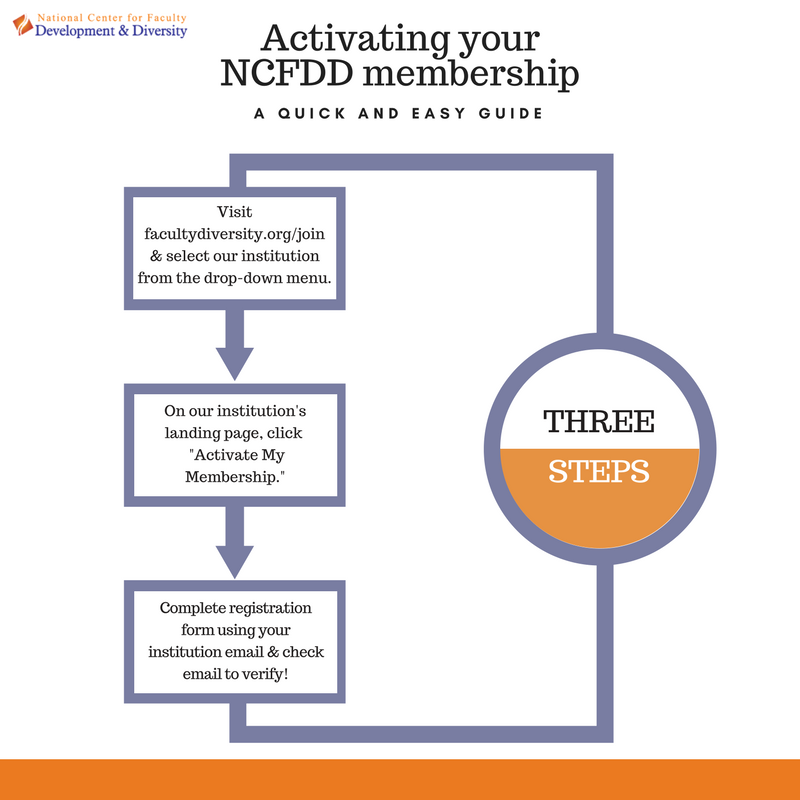 Meet our Campus Account Administrators
Contact Us
We encourage you to take advantage of all the resources available to you through the NCFDD. If you have any questions or comments, please contact our Faculty Fellow for Diversity, Equity, and Inclusivity, Dr. Kerri-Ann M. Smith at KSmith@qcc.cuny.edu.  If you have any technical questions, please email NCFDD at Membership@FacultyDiversity.org.