Prepping for Finals Week? We're here to help - read through our "Survival Guide" below!
Final Exam Schedule
Final exams week is Wednesday, May 18 through Tuesday, May 24. Check with your professor whether or not your course will have a final exam. If there is a final exam, the date/time and method of delivery for the final exam will be determined by your professor.
Take Advantage of FREE Virtual Tutoring
There is still time to take advantage of the support provided by the Tutoring Centers: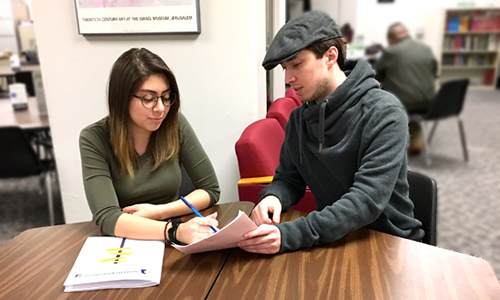 (CTAS) is located on the first floor of the library*
(MLC) is located in the Science Building room 216 and open for walk-in/in-person tutoring; on-line appointments available as well: mathcentertutoring@qcc.cuny.edu
*CTAS Event on 5/12: Long Night Against Procrastination. CTAS Tutors will be on campus until 11pm. Free snacks after 6pm.
Campus Resources
Wellness
Don't Miss our remaining 

Healthy Living Fair

 events. The Healthy Living Fair promotes wellness events in recognition of Mental Health Awareness Month.­

The 

Counseling Center

 is here to help you reach your personal, academic and career goals. To speak with a counselor call 718-631-6370 or email 

Counseling@qcc.cuny.edu

. The CUNY Crisis Text Line is also here to support you: Text 741741 for free, 24/7, confidential crisis support.
Library Resources
Join us for our Spring '22 Research Parties! Drop-in anytime during these in-person sessions in L-302 or online on Blackboard Collaborate to meet one-on-one with a QCC librarian for help with your research papers and assignments, including selecting and refining topics, formatting citations, using the QCC Library databases and more! Bring your assignment or research topic with you to the Research Party so we can most effectively help you. Go to the QCC Events Calendar for dates and times of the Virtual Research events! (Reminder: The chat continues to be available 24/7 on the library homepage as well.)
Student Union Building
The Student Union Building is open if you are looking for a place to relax or get some work done!
Hours:
Mondays - Thursday, 9am-7pm
Friday, 9am-5pm
Food Pantry
The QCC Food Pantry is available to help you and your family when you need it. You must schedule an appointment to pick up groceries. Click here to learn more. Additionally, you can RSVP for our Fuel Up Before Finals Food Distribution on May 12.  
Summer & Fall Registration/Advisement Is Underway
Registering for Summer & Fall '22 should be a priority! If you haven't already done so, register using Schedule Builder on CUNYfirst to get the classes you need and the schedule that works best for you.
And don't forget: This summer you can take a summer STEM course on us! Apply today for a 

Summer Tuition STEM Waiver

. Free-tuition for a summer STEM class could be yours for the taking!

If you need help selecting your classes, call, email or 

use Starfish

 to contact your adviser or office:


Use DegreeWorks and Schedule Builder to choose your classes, plan your schedule then register for classes on CUNYfirst.
We are here to help you get ready for winter and spring '22. You can email to make an appointment with an adviser using Starfish or CUNYfirst.
Find an Adviser
Top