Jerome Davis '13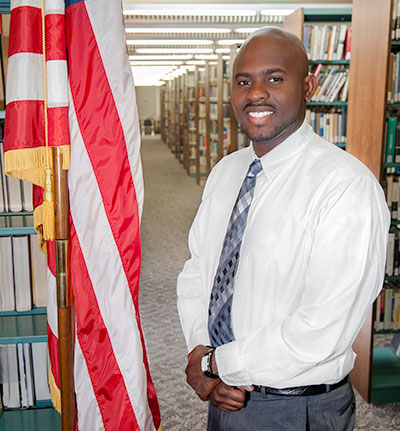 After graduating high school in 2008, Jerome Davis '13 did not foresee college as an option. He instead opted to immerse himself into the professional world. He spent three years working in the retail and fast-food industries before deciding to enroll at QCC.
"Bouncing from job to job started to become stressful," says Davis. "I literally felt that I was headed nowhere and that my life was worthless. I felt that the only way out of my turmoil was education, so I decided to go back to school."
Davis sought out schools within The City University of New York because of its affordability. After extensive research he finally narrowed his choice to QCC. "The campus really gives you a college atmosphere," he says.
As the school year progressed, Davis found himself becoming interested in law after taking a course in American government and politics. "I was amazed at how law governs our lives, and how social issues that were resolved in courts changed the face of our country."
Eager and excited to gain hands-on experience, Davis found himself in the Office of Career Services to learn about available internship opportunities in the field of law. With the assistance of Ms. Grossman, the Internship Coordinator, Davis landed an internship at the Queens County Criminal Court.
"I can remember my first day entering the courthouse," says Davis. "Dressed in a suit and tie and approaching the large glass doors. For the first time in my life I felt like someone important."
Davis was important, as was his role at the court. He was responsible for examining all law documents involved in any specific case and deliberating with the judge.
"When we finished examining the documents pertaining to the case, the Supervising Judge, the Supervising Court Attorney, and myself walked into to the courtroom. This was the most exciting part for me," says Davis. "To walk into the courtroom with Judge Deborah Modica and Mr. Guarino. I sat in the section that was reserved only for attorneys which made me feel like a lawyer."
Sitting on the attorney bench was a feeling so surreal that Davis has now thought about becoming a lawyer.
"I was so intrigued by my experience that I made the decision to get my Bachelor's and pursue law."
Davis says that prior to meeting and working with Ms. Grossman, he never thought he would work alongside an attorney or a judge. "I was extremely nervous but my excitement overshadowed my fear," he says.
"My advice to fellow students is to take advantage of all the opportunities that QCC has to offer."