Bridges to the Baccalaureate Program
Research Initiative for Maximizing Science Skills
What is the Bridges Program?
The Queensborough Bridges to the Baccalaureate Program is a partnership with Queens College and The City College of New York designed to increase the number of underrepresented science students who transfer to a four-year baccalaureate-granting institution and pursue careers in science or biomedicine. Funded by the National Institutes of Health (NIH), the program provides participants with the academic skills, research experience and support network needed for success in these careers.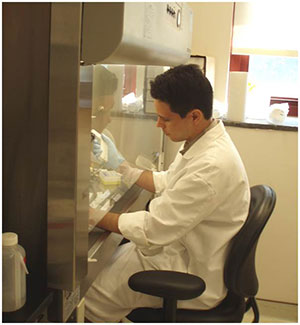 Realizing Your Dreams
It's not always easy to know what you want to do in life until you try it. The Bridges/RIMS Program provides students with the opportunity to test their interest in a biomedical career by becoming engaged in a research project, participating in workshops, attending seminars and presenting their research at conferences.
Real Research
A hallmark of the Bridges/RIMS program is a strong focus on authentic research carried out under the mentorship of faculty in biology, chemistry, math, physics and behavioral science. In keeping with multidisciplinary nature of biomedical research, students are provided with diverse research opportunities: biochemistry, cell biology, computer science, genetics, microbiology, physics, behavioral science, chemistry, engineering, mathematics, neuroscience and public health.
More information
2012-2013 List Bridges Participants and research titles
Research Awards
Benefits & Obligations
Program Benefits
Work closely with faculty mentor
Gain solid research experience and receive a salary
Clarify you career goals
Receive individualized counseling and support
Attend regional and/or national conferences
Build your resume and cultivate references
Student Obligations
Conduct faculty mentored research
Participate in workshops, topics include: research ethics, transferring to a senior college, writing a scientific report, creating PowerPoint presentations
Attend research seminars
Meet individually with Program counselor
Submit a written report
Present his/her research at the final seminar
Participate in program evaluation
Program Duration and Support
Students participate part-time during the academic year and/or full-time during the summer. Students may be supported by Bridges for up to two years provided their academic progress toward transfer is on track and satisfactory. All students receive a salary so they can focus on their research projects: $150/wk for part-time during the academic year and/or $5,250 for ten-week summer program.
Who is eligible?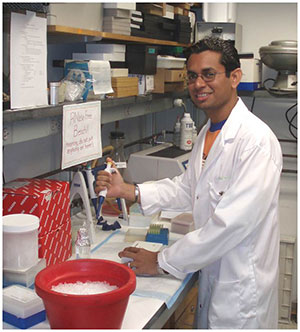 U.S. citizen or permanent resident
Full-time QCC student in good standing
Member of a group identified by NIH as underrepresented in the biomedical sciences

Black, Hispanic, Native American, or U.S. Pacific Islander
Students of any ethnicity who are disabled or from a disadvantaged background

GPA of 2.7 (B-) or higher
Completion of 2 semesters of science (preferred)
Intend to transfer to a senior college and major in science or biomedicine
For the purpose of the Bridges to the Baccalaureate Program, the NIH has identified three classes of participants as underrepresented in the biomedical and behavioral sciences.
Individuals from racial and ethnic groups that have been shown by the National Science Foundation to be underrepresented in health-related sciences on a national basis (see data at NSF data and the most recent report on Women, Minorities, and Persons with Disabilities in Science and Engineering). The following racial and ethnic groups have been shown to be underrepresented in biomedical research: African Americans, Hispanic Americas, Native Americans, Alaska Natives, Hawaiian Natives, and natives of the US Pacific Islands.
Individuals with disabilities, who are defined as those with a physical or mental impairment that substantially limits one or more major life activities.
Individuals from disadvantaged backgrounds who are defined as:

Individuals who come from a family with an annual income below established low-income thresholds. These thresholds are based on family size; published by the U.S. Bureau of the Census; adjusted annually for changes in the Consumer Price Index; and adjusted by the Secretary for use in all health professions programs. The Secretary periodically publishes these income levels at HHS - Poverty Guidelines, Research, and Measurement. For individuals from low income backgrounds, the institution must be able to demonstrate that such participants have qualified for Federal disadvantaged assistance or they have received any of the following student loans: Health Professions Student Loans (HPSL), Loans for Disadvantaged Student Program, or they have received scholarships from the U.S. Department of Health and Human Services under the Scholarship for Individuals with Exceptional Financial Need.
Individuals who come from a social, cultural, or educational environment such as that found in certain rural or inner-city environments that have demonstrably and recently directly inhibited the individual from obtaining the knowledge, skills, and abilities necessary to develop and participate in a research career. Recruitment and retention plans related to a disadvantaged background (C1 and C2) are most applicable to high school and perhaps to undergraduate candidates, but would be more difficult to justify for individuals beyond that level of academic achievement.
Applying to the Program
Applications will be reviewed by the Bridges Committee starting in the Fall semester and continuing until all slots are filled. You may complete the Bridges application form online. Note you must submit transcripts from all colleges you have attended. Once the application is complete, the student will be interviewed by Dr. Schneider, the Program Director.
We believe in your potential … Let us invest in your Future!