Student Spotlight: Reyona Oyama, Katrina Weeks, Elaine Alvear and Quincy Vincent
by Aviva Geismar
Posted 18 October 2022
One of the pleasures of teaching in the QCC Dance Program is working with a wide variety of students, some who have danced a great deal before starting with us and some who have not. This fall I had the chance to interview four students who are in their first or second semesters as dance majors. They all spoke about the transformative experiences they were having at QCC and shared their advice for other incoming students.
Reyona Oyama grew up near Tokyo, Japan. She took Hip Hop and House dance classes from age 8 through High School, participating in street dance battles and performance showcases. When researching plans for college, she learned about Divec, an organization that supports Japanese students who wish to study abroad. That gave her the idea to come to NYC, the center of the Street Dance world. Reyona has three siblings, so she decided on CUNY, the most economical option in NYC, and she chose QCC because it offers both strong support for international students and an excellent dance program.
Reyona worked on her English skills in the CUNY CLIP program online in Fall '21. In January '22, she moved to NYC, housing in the dorms at Queens College. Since starting her dance training at QCC she has been exploring many new aspects of dance in courses in improvisation, Modern Dance, Ballet, choreography and African/Afro-Caribbean dance. Over the summer, she received a QCC dance scholarship to attend the "36 Chambaz of Stylz" summer program at Peridance Center and also attended Street Dance classes at Modega studio as well as battles and other Street Dance events.
Her advice to other new dance majors is, "Don't focus on how other people see you. Focus on doing your work and improving." Reyona never feels self conscious about how she looks in class because she is too busy working on her skills.
Reyona wants to complete her BA or BFA in dance in the US and stay for another year to work in the dance field on an OPT visa. Her long term goal is to return to Japan and to bring Street Dance and Stage Dance forms together as a choreographer and performer.
Katrina Weeks, in her mid 20s, was working as a freelance videographer and photographer through her company, A Daydreamer's Production, when she realized she missed dance and believed that she could use it as a means to impact the lives of many others. That is what brought her to our program. Katrina's goal is to open a dance school to serve the African American community which, in her view, often does not have access to excellent training. She feels that she could have gone farther when she was younger, if she had had more access to the best training. Through dance, Katrina wants to share with the public a different perspective on what is known about communities of faith. The way they are often portrayed in the media, she explains, can be stereotypical.
What does she appreciate about our program? "I like knowing the how of the what. In other words, I know I am pointing my toes, but what muscles am I using?" Katrina also appreciates that, "The Professors and students hold each other accountable and hold each other up, so if you need help, people help each other. "
What has been challenging for Katrina since coming back to school? "Time management." It is hard to juggle school work, running her company, church commitments etc.
Her advice to other new dance majors, "Enter with an open mind." She expected that the program was going to be rigid, but was pleasantly surprised to discover that, "This is a place to grow."
Elaine Alvear had always loved to dance and danced at home, but her family couldn't afford private dance classes. Elaine took her first dance class in her senior year at the High School of Arts and Business and discovered that she loved it. She was surprised when her teacher asked her to choreograph a piece for a school show, but in that demanding process she found another very rewarding aspect of dance. That same high school dance teacher also encouraged her to consider majoring in dance in college, something that the teacher herself had not been able to do.
Elaine has been excited to discover that the QCC Dance faculty and her classmates are all so passionate about dance. "Everyone has a different view on dance, which is mind blowing," she commented. She was afraid that she would feel out of place because she was new to dance, but she said, "After I met my peers who all have different experiences, we connected."
It's early for her to know exactly what her long term goals are, but she had the opportunity to see a few Broadway shows and would love to pursue that kind of career.
Like Katrina, she is finding it challenging to manage being a student and working a job. She does get tired. She is also learning about herself and her learning process. "Sometimes I get frustrated, and I am working on that," she observed.
In her advice for other new QCC Dance majors, she identifies the challenging nature of training in dance, "Something might be different to you, but keep an open mind, and see how it goes… and have fun, but still  take it seriously."
Quincy Vincent loved watching other people dance, and when he was a Sophomore in High School, he discovered he loved to dance as well. He "dove in head first," training 3 hours a day, 5 days a week, mostly in Ballet and modern dance at Harlem School of the Arts. When planning for college, a guidance counselor at Gramercy Arts High School encouraged him to consider CUNY.
Two weeks into his studies at QCC, Quincy says he has never before experienced such close attention to alignment and that learning the Bartenieff Fundamentals in his modern class, has already changed his way of moving to be "more flowing and in sequence."
Quincy's long-term goals are still in formulation. He has a number of excellent 4-year programs on his radar including SUNY-Purchase, Montclair State and Marymount Manhattan. Long-term, he is excited about doing everything: teaching, choreographing and performing. His advice to new dance majors, "Don't judge yourself before you start. Don't think you're the best, and you're going to be fine all the time. Be prepared to grow, and be prepared to pick up something you don't know. When you do pick it up, hold onto it, because the knowledge that you pick up is something that you can always hold onto."
Student Spotlight: Christine Cano
Posted 19 November 2019
I sat down with Christine Cano (Fall '19) to discuss her experiences with Movement Research's Summer MELT in July and August. "The MELT Intensives are a series of daily workshops in technique, somatics, improvisation, composition and other areas offered each summer and winter. Taught by Movement Research's internationally recognized faculty as well as acclaimed guest artists, these workshops provide students with the unique opportunity to engage with some of the most highly regarded and innovative artists in the field of dance today" (movementresearch.org).
In the 5-week summer program, Christine took a variety of movement classes including modern dance and dance composition. There were also singing and J-set classes, which were a surprise for Christine. J-Setting is a style of dance originated in the late 1970s and popularized by the Prancing J-Settes. The Prancing J-Settes are a well-known collegiate female dance line of Jackson State University's Sonic Boom of the South marching band in Mississippi. (Wikipedia). Jumatatu Poe, the J-set teacher, was one of the most memorable teachers for Christine. "He was so lively…and never judgmental. He was supportive and took his time. All of us were able to catch on".
Christine felt her studies at QCC prepared her very well for the rigors of MELT. Last spring, she had knee pain because of tightness in her quadriceps, the muscles in the front of the thigh. Not wanting to repeat this, she made a practice of using a foam roller before and after class to release muscular tension and soreness. A practice she learned from Prof. Emily Berry. She also took Epsom salt baths to recover from the long days of dancing. "My roller and Epsom salt [were] my best friends."
"There was one teacher, Barbara Mahler… I struggled so much in her class. Her stretches were intense. I had to take breaks. I had to sit down. And [Barbara] was like, 'What school do you go to?' When I said QCC, [Barbara] said, 'I knew you danced with Emily!' Her class helped me release more. That and modern and ballet helped me release my leg more and it got so much higher, which was a goal for me".
"I learned a couple of things. I learned from Miguel [Gutierrez], not to care. Who cares if it's pretty, who cares if it doesn't look good, as long as you're you. Another thing I learned is it's really ok to mess up and to not know what you're doing. You're gonna get better. You're gonna see the progress. And that it's ok to be weird. I met a lot of different people and they all told me it's ok to be your true self. You don't have to compete with anyone".
Christine's advice to other QCC students who have the opportunity to participate in a Movement Research MELT Intensive: "I would tell them to go to the intensive, or anything, with an open mind. And to not stress yourself out. As long as you're your full self, in anything that you do, you're going to be fine."
Christine is finishing her last semester in the QCC Dance Program. She plans to attend SUNY Brockport in the spring or fall 2020.
From left to right: Dominique Carryl-St. Louis and Christine Cano in Nkosi sikelel' Afrika - God Bless Africa by Kevin McEwen. Photo by: Leo Correa
QCC Dance Workshop
On Saturday, May 11, 2019, the dance majors at Queensborough Community College (QCC) held their Dance Workshop performance at Manhattan Movement & Arts Center. Dance Workshop is the spring dance concert for the QCC Dance Program. This performance culminated a process that began with auditions in November 2018 and continued with intensive rehearsals with guest artists in January 2019 and weekly rehearsals during the spring semester.
Guest artists, faculty, and students choreographed 11 new works. The dancers performed a wide range of dance forms from modern to West African to hybrids of various forms. The concert opened with a film to honor Muriel Manings who passed away in the fall of 2018. Manings was part of the New Dance Group, a modern dance collective inspired by the political movement spawned by workers' demonstrations in Manhattan in the 1930s (Rolnick 2012). She later was the QCC Dance Program coordinator from 1970-1990.
In the current political climate that at best erases people of color, the dancers displayed immense courage in sharing themselves and their stories with the audience. The faculty and guest artists' works explored the stress and rage those unempowered often feel living in racialized and sexist societies. It also showed the resilience of those living within these unjust systems. The dances created a space for the performers and the audience to experience and release emotions rarely vented in public domains. The students' choreographed works, all solos, echoed the themes presented in the ensemble works from the point of view of an individual.
Dance Workshop showed how dance continues to be political. The 11 works looked at the world and offered an opportunity to connect with others because of their differences rather than in spite of them. The concert continued the work that Muriel Manings began with the New Dance Group and continued during her time at QCC. Johanna Climenko, a former student of Manings, interviewed for the film stated if you want to change the world, dance is the vehicle to change the world. The QCC dance students are not only willing but able to dance those changes into the world.
Rolnick, Katie. "Dance History: New Dance Group". Dance Teacher Magazine. 1 October 2012. Accessed 12 June 2019.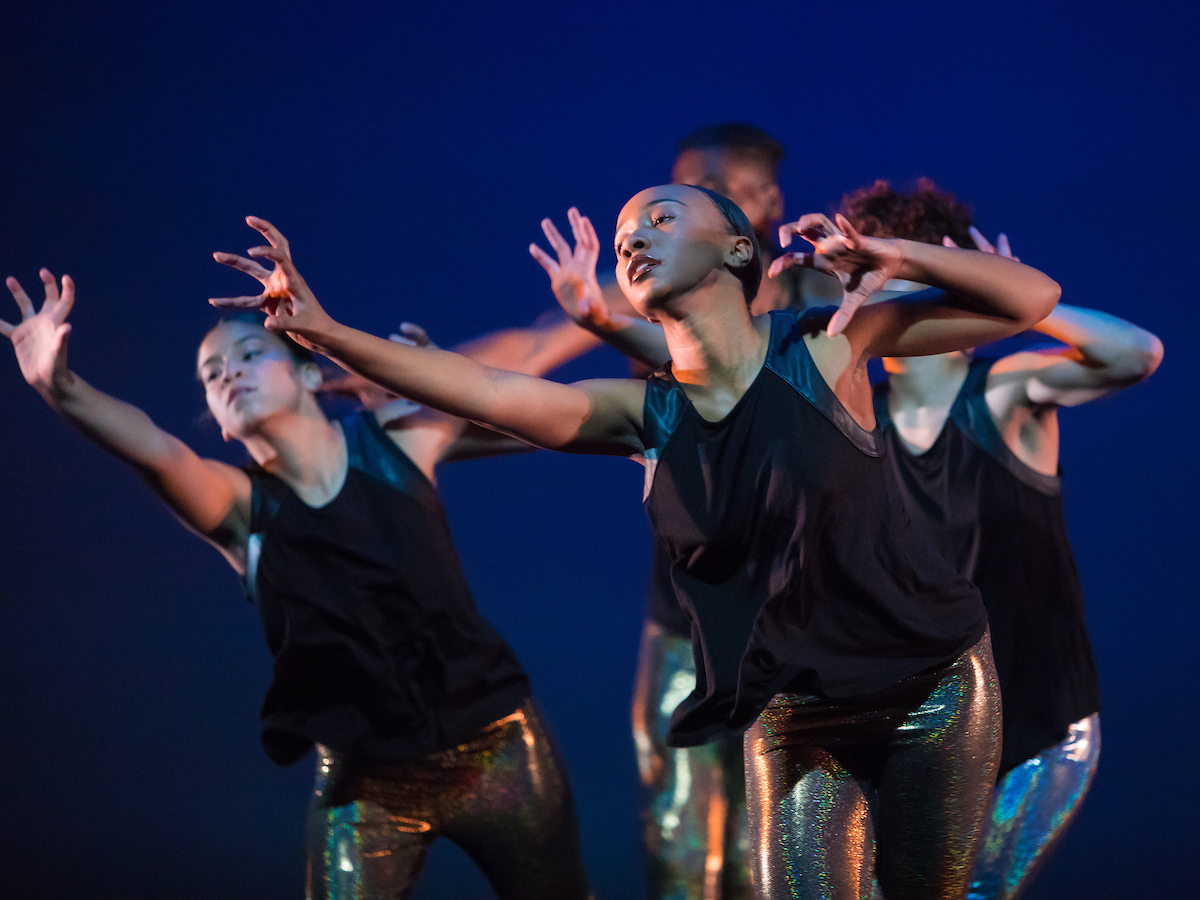 Photo credits: "Strapped" by Robert Battle. Photo by: Leonardo Correa
Student Spotlight: Xiang Rong Ren
I interviewed Xiangrong Ren, a second year student in the dance program, on her experience with the Gibney Winter Intensive. Each year one QCC dance program student receives a full scholarship to attend the Gibney Winter Intensive and one dance student receives a full scholarship to attend the Summer Intensive. The Winter Intensive takes place over the first two weeks in January.
How did you get the Gibney Winter Intensive scholarship?
The Dance faculty chooses the scholarship student. I don't have a modern class this semester, so they felt it would be a good experience for me. Emily Berry, Dance Program Coordinator told me that I got the scholarship on my birthday.
Happy Belated Birthday! What did you do during the Winter Intensive?
The participants were required to take 30-35 classes in the two weeks, but you can pick own schedule. There were also several performances we saw during the intensive. I saw performances at New York Live Arts, Movement Research, the Joyce, and the Chocolate Factory. There were regular meetings to talk about how we felt after the performances and classes. Gibney also invited guest speakers like the Harkness Health Center for Injury Prevention to talk to us. And they had a photographer to take our headshots and movement shots; I got to choose a headshot and a movement shot for free.
I can't get past the 30-35 classes in 2 weeks!
I took 31 classes in two weeks. Last summer I took the Valerie Green summer intensive. It was totally different from Gibney's. The program with Valerie Green was only week and they set up the schedule for you which was the same every single day.
How many classes did you end up taking a day to have everything fit?
I took three classes a day, Monday through Saturday. I had to work on Sundays. The first week my body felt very sore, but after a few days I feel like I got used to it. One day I took four classes. It was not as hard as I thought because I was used to taking three classes. What was hard for me was scheduling. I live in Queens, so it was hard for me to get to a ten o'clock class because I have to leave home around 8 o'clock in the morning.
Whose classes did you get to take?
I used this as a chance for me to try something new, so I took different styles and from different teachers. I really liked the Simonson classes. Some classes were hard to follow because the students had previous experience with the teacher, so the class moved too fast. At QCC we learn a new phrase and work on it for a few weeks, but at the classes at Gibney I only had the one class. I could not pick up the phrases quickly, but I think that two weeks help me to get better at it.
I tried to take more technique class like Limón, ballet, and floor barre. They were really helpful because the instructors were clear and they focused on my alignment. I liked the contemporary and jazz classes because the teachers used terminology and movements I was familiar with from Emily's classes. I could apply what I learned at QCC this those classes.
I also learned that some dancers can be good performers but not really good at teaching. I took a class because I saw the dancer in performance, and I really liked how she moved, but taking her class is not what I expected. When I was learning the phrase, she just wasn't that clear.
What about this experience was most transformative for you?
I met a professional dancer from Hong Kong during the winter intensive. She performs Chinese traditional dance. She helped me learn how to pick up movement while the teacher demonstrates.
I am not confident in class, dancing in front of people. I had no dance experience before QCC, so I often compare myself to others which is hard for me. Sometimes I really struggle a lot. But what I liked about Gibney was everyone was focused on themselves, so I did not feel like I was being judged. That environment was inspiring to me, and I could really see how much progress I made in a year. I remember taking a Gaga class. I felt relaxed and in my own zone. It was really fun, and I felt much more confident in myself to try new things.
What advice would you give someone who receives the opportunity to participate in the Gibney winter intensive?
There were so many choices, and you want to take all the classes, but know what you want to learn and what you need to learn.
Know your level. Sometimes we can go too high when you're not ready for it.
Be open. Try something new because it might not be what you expect to learn.
Photo credits: LaVue Photography/Gabriel J
Kwanzaa Reflection
On Sunday, December 9, the Queensborough Community College Dance Program presented its first Kwanzaa Celebration. Produced and directed by Adjunct Faculty Kevin McEwen, this program proposed to celebrate the QCC local and extended community through dance and music.
The concert consisted of seven dance works featuring performances by the QCC Dance Majors, Bautinga Arts, the Kofago Dance Ensemble, the Gloria Eve School of the Arts, and the Nu Gamma Psi Step Squad. The show began with a YouTube video, "The Story of Kwanzaa: From Civil Rights to Corporate America" by Now This World to give the audience some history and context around Kwanzaa. Developed by Maulana Karenga in the 1960s, Kwanzaa was an "opportunity to restore unity in black communities" disrupted by riots and tensions between the black communities and law enforcement (Butler). It is an African American and Pan-African holiday which celebrates family, community, and culture. Celebrated between Christmas and New Year's, Kwanzaa takes its name from and refers to an African harvest celebration (McEwen). Each day of Kwanzaa represents a different principle: unity, self-determination, collective work and responsibility, cooperative economics, purpose, creativity, and faith. The two dance works in the first half of the show featured West African dance with live drumming as though to show Kwanzaa's African roots through dance.
A medley of dances displaying the African diaspora was the theme of the second half of the show. From step to Afro-Caribbean to contemporary dance, the dances invited the audience to remember our history, to lean on our ancestors, and to celebrate the resilience and adaptability of a people who retained their identity in the face of slavery, Jim Crow, and racism. The second act closes with a finale choreographed by Mr. McEwen and featuring dancers from the QCC Dance Program, Kofago Dance Ensemble, and Bautinga Arts with live drumming. This finale titled Mandiani, which is an initiation celebration dance done by the Mandingo People of Senegal, West Africa (African Heritage Dancers and Drummers), ended the show on an energetic note and reinforced the idea Mr. McEwen stated at the beginning of the show: Kwanzaa is a celebration of the local and extended community.
In his closing speech, Mr. McEwen invited the audience to get out of their respective bubbles and engage with the community around them, especially in academia -the show took place on a college campus. Often the institution isolates itself from its immediate physical and geographical community and prioritizes the intellectual community. Mr. McEwen exemplified that interconnectedness he invited the audience to engage with; he shared that as a teacher, colleague, and student he had a direct connection to every group that performed that evening.
The Kwanzaa Celebration took the audience on a journey from global to local to personal and back out into the community in a multi-sensory experience that appealed to a broad audience. As an experience it lasted long after the dancers and drummers took their final bows. Many of my students in class the next day commented on how much they enjoyed the performance and how they look forward to next year's production. My eight-year-old daughter sat riveted in her seat for the entire performance, whooping and cheering the dancers on, and immediately wanting to dance once the show ended. It is an auspicious beginning to a tradition that I hope will grow deep roots so that it lives beyond its creator.
"African Heritage Dancers & Drummers Teachers Program Guide -The Dances." 2002.
Butler, Jennie. "The Story of Kwanzaa: From Civil Rights to Corporate America." YouTube, 26 Dec. 2016.
McEwen, Kevin. "Kwanzaa Celebration." Queensborough Community College Dance Program, Department of Health, Physical Education and Dance, 9 Dec. 2018.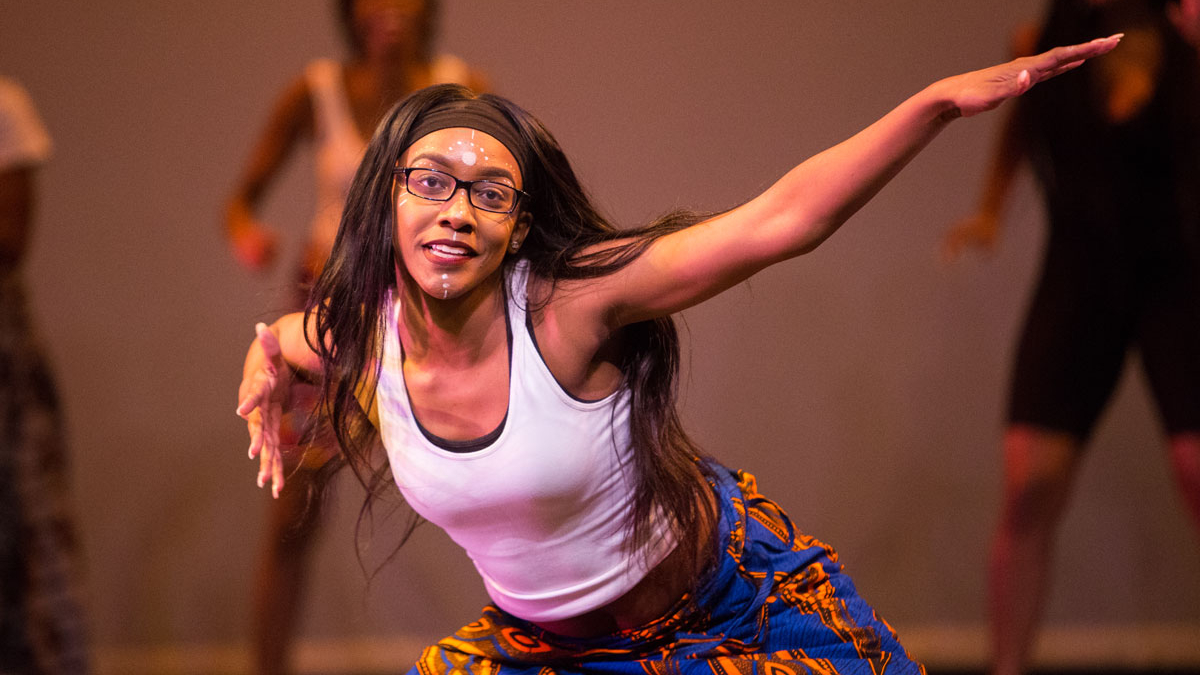 Photo Credit:
Mandiani -
Choreography by:
Kevin McEwen
Dancer:
Elizabeth Vielot (QCC Dance Major)
Photo Credit:
Mandiani -
Choreography by:
Kevin McEwen
Dancers:
Marvin Jeudy (in center), Kofago Dance Ensemble, Batingua Arts, QCC Dance Majors