Dr. Joseph B. Aidala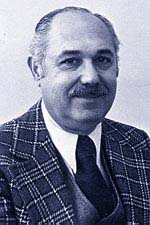 Gone But not Forgotten......
Professor Joseph B. Aidala died on February 20 after a long illness. He was 75, and resided in Bellerose.
Professor Aidala served as chairman of the Electrical and Computer Engineering Technology Department for 31 years. In 1973 he was named the first QCC Distinguished Professor of the Year and, in 1991 retired with professor emeritus honor.Professor Aidala'a educational and professional career was impressive, beginning with the earning of both bachelor's and master's degree in electrical engineering technology from the City College of New York (in 1941 and 1945, respectively). He applied this education working as an electrical engineer for the Magnetic Mine Section of the U.S. Naval Shipyard from 1941 to 1947.During the next ten years, Professor Aidala taught electrical engineering first at Pratt Institute, then at Brooklyn Polytechnic Institute. He also held many consulting positions with General Electric, Westinghouse, Sperry Gyroscope, Douglas Aircraft and General Precision Laboratories, among other prominent firms.Professor Aidala was appointed by the Regents of the State University of New York to the NYS Board of Engineering and Land Surveying from 1982-1992. He was an active member of the New York State Society of Professional Engineers, the Institute of Electrical and Electronic Engineers, and the American Society of Engineering Education. With Leon Katz he co-authored the textbook, Transient in Electronic Circuits.Joseph Aidala served as director of the North Bellerose Civic Association for more than 45 years, and edited its monthly newsletter, "Newsbits." He was also active on the Queens Democratic Committee.Professor Aidala is survived by Betty, his wife of 50 years, his daughter Lynn Littman, his son Gregory, and four grandchildren.The family requested that memorials take the form of donations to The Joseph B. Aidala Scholarships Fund, c/o QCC's Department of Electrical and Computer Engineering Technology.
Professor Aidala was a grammarian. He especially loved unusual words. His technology students will remember him coming to class each day with a new word for them to learn. Therefore, in honor of Professor Aidala, and in keeping with his tradition we respectfully submit the ECET Word of the Week.
Visit other unusual word sites: