Fast Facts and Economic Value
Dr. Christine Mangino, President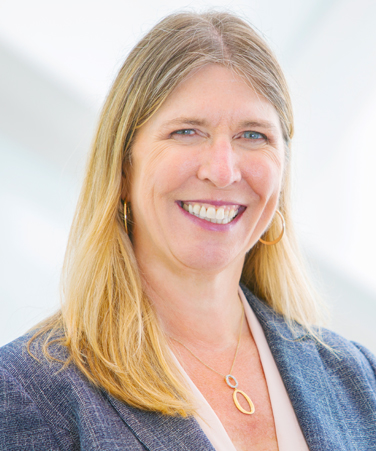 Dr. Christine Mangino
President
Queensborough Community College
Dr. Christine Mangino, the sixth president of Queensborough Community College, formerly served as the Provost and Vice President for Academic Affairs at Hostos Community College of the City University of New York.
Dr. Mangino is an alumna of the Aspen Presidential Fellow for Community College Excellence, a leadership program that prepares community college presidents to transform institutions to achieve high and equitable levels of student success.
She began her tenure at Hostos as an Assistant Professor for Early Childhood Education in 2004 and soon after served as Coordinator, Chairperson, Associate Dean for Academic Affairs, and Interim Provost. Prior to Hostos, Dr. Mangino taught in both an early childhood center, as an elementary school teacher, and later on as an adjunct professor at St. John's University. She served on nine doctoral dissertation committees, chairing four of them. Dr. Mangino began her education earning an Associate's degree from Nassau Community College, a Bachelor's and Master's degree in education from Hofstra University and a doctoral degree in Instructional Leadership from St. John's University. Like many community college students, Dr. Mangino was the first in her family to attend college.
Dr. Mangino presents at national and international conferences on topics such as differentiated instruction, learning styles, and leadership. She was an invited keynote speaker for faculty at Oregon State University, the 21st Century Principals Forum in Beijing and Shanghai, China and for an international Learning Styles conference in Denmark. Dr. Magino has served her community as the co-president of the North Merrick Special Education Parent Teacher Association, a Girl Scout leader, and a volunteer counselor for a suicide hotline.
Campus

Queensborough Community College of The City University of New York is located on 37 acres in Bayside, New York, on the former site of the historic Oakland Golf Club. Bayside is a community of nearly 100,000 residents in northeast Queens and borders Nassau County, Long Island.
Accreditation
Queensborough is accredited by THE MIDDLE STATES COMMISSION ON HIGHER EDUCATION, one of seven regional accrediting bodies in the country.
Programs in computer engineering technology, electronic engineering technology, and mechanical engineering technology are accredited by the Engineering Technology Accreditation Commission of ABET.
The nursing program is accredited by the Accreditation Commission for Education in Nursing, Inc.
Business programs are accredited by the Accreditation Council for Collegiate Business Schools and Programs.
The Art Department is accredited by the National Association of Schools of Art and Design.
The dance program in the Health, Physical Education and Dance Department is accredited by the National Association of Schools of Dance (NASD)
Speech Communications and Theatre Arts programs are accredited by the National Association of Schools of Theatre (NAST)
Faculty: Fall 2020
70%
OF FULL-TIME
FACULTY HOLD
DOCTORAL
DEGREES
Students: Fall 2020
Student enrollment numbers by classification for fall 2017

| Student classification | Enrollment numbers for Fall 2017 |
| --- | --- |
| Enrollment | 12,405 |
| Full time equivalent | 8,629 |
| Degree and certificate students | 11,222 |
| First-time freshmen | 3,212 |
| Men, full time | 3,457 |
| Women, full time | 4,002 |
| Men, part time | 1,556 |
| Women, part time | 2,207 |
Retention and Graduation: First-Time, Full-Time Freshmen
Retention and Graduation: First Time full Time Freshmen for fall 2017

| Qualification | Percentage |
| --- | --- |
| One year retention rate: entering in Fall 2019 | 61.5% |
| Three-year graduation rate: entering in Fall 2017 | 29.2% |
| Six year college graduation rate: entering in Fall 2014 | 33.7% |
Financial
As a publicly supported institution, Queensborough offers the opportunity for students to complete their degrees without the debt often associated with a college education.
Full-time in-state degree students pay $5,209 a year, while non-degree students pay $265 and $420 per credit.
80% of first-time freshmen take advantage of grant aid, mostly Pell Grants. More than half of all students take advantage of financial aid.
Operating Expenditures: $113.5 million (FY2020)
Fundraising Revenues: $3.6 million (FY2015)
Sponsored Programs: $4.9+ million (FY2020)
MORE THAN
38% OF STUDENTS COME FROM A HOUSEHOLD WITH AN INCOME BELOW $30,000
---
CAREER DEGREE RECIPIENTS (AAS DEGREES) EARN NEARLY
2X THAT WITHIN 4 YEARS OF GRADUATION
Diversity
Queensborough is located in one of the most diverse counties in the United States – Queens County, New York. As of Fall 2020, the college comprises nearly equal populations of African-Americans, Asians, Caucasians and Latinos, representing 117 nations of birth and 64 native languages.
Ethnicity of Queensborough students by percentages
Ethnicity of Queensborough students by percentages for fall 2017

| Ethnicity of Queensborough Students | Percent |
| --- | --- |
| African American | 27% |
| American Indian, Native Alaskan, or Other | 1% |
| Asian or Pacific Islander | 30% |
| Caucasian | 15% |
| Hispanic/Latino | 27% |
Alumni
More than half of Queensborough associate degree recipients transfer to a CUNY baccalaureate program, the highest of all CUNY community colleges.
Some of the more commonly attended senior schools for Queensborough graduates include:
Economic Value
Queensborough Community College Helps Fuel the Local Queens Economy and Labor Market, recruiting a high percentage of its faculty, staff and students from the Queens and New York City areas.
 
Queensborough educates students to be well-prepared, competitive graduates who will contribute to the NEW YORK area as well as the national and international arenas.
 
 
Queensborough employs approximately 2,200 full-time and part-time faculty and staff.
 
 
FIFTY-SIX PERCENT of Queensborough faculty and staff reside in Queens.
 
 
Queensborough pays more than $106 MILLION per year in salaries, contributing to the $8 BILLION per year in CUNY-generated economic activity for the city and state.
Building Tomorrow's Campus
With help from a $142 million grant to CUNY by the City and State of New York for capital projects, Queensborough Community College is making many improvements on campus. Current improvements include the first phase of renovation to the Science Cafe and the enclosure of the Science Building courtyard, thus creating an indoor dining and banquet space. Renovations will also make the Queensborough Performing Arts Center (QPAC) more accessible and improve infrastructure across campus.
"INFRASTRUCTURE IMPROVEMENTS TO OUR CAMPUS ARE ABOUT THE FUTURE OF QUEENS. THEY DRIVE INNOVATION & ECONOMIC GROWTH FOR GENERATIONS." - DR. DIANE B. CALL, PRESIDENT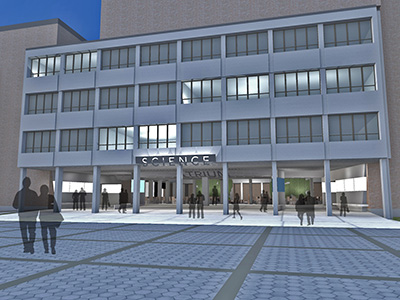 After being selected to receive $1 million from the Green Innovation Grant Program, a major reconstruction of Queensborough's main parking lot will combat storm runoff which currently flows through a storm sewer to the Alley Creek wetlands and Little Neck Bay. Asphalt will be replaced with porous asphalt. In addition, two planted areas will retain rain water and filter pollutants, and a new tree-lined pedestrian entrance will connect the main gate and central quad.
Athletics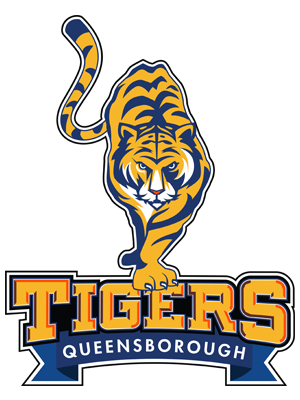 Queensborough is home of the TIGERS, who participate in the CUNY ATHLETIC LEAGUE.
Queensborough fields teams in cross country, indoor and outdoor track, swimming, men's baseball, men's basketball, men's soccer, women's basketball, women's softball, and women's volleyball.
Library
Queensborough is home to the KURT R. SCHMELLER LIBRARY, a central hub for student learning on campus that combines state-of-the-art technology with traditional library services. The goal is to foster excellence in teaching, learning, and research, and to develop competence in information literacy.
Library archives include documents and photographs related to the history of the college and the community, and the legislative archives of former New York Senator Frank Padavan.
Cultural Resources
Queensborough is home to THREE MAJOR CULTURAL CENTERS, serving the educational, professional and cultural needs of students, faculty, staff, and the entire New York community.
The Harriet & Kenneth Kupferberg Holocaust Center offers originally-researched exhibits, public programs, scholarly lectures, and educational resources about the Holocaust for students, faculty, and community members.
The QCC Art Gallery, housed in the historic 1920s former club house of the Oakland Country Club, presents world-class exhibits of local, national, international and historical interest.
The Queensborough Performing Arts Center (QPAC) serves 100,000 people each year by offering world-class entertainment, student learning activities and community programs.

QCC Art Gallery

Harriet & Kenneth Kupferberg Holocaust Center

Michael Bolton at QPAC, February '14