In the Press
"This is Your Day!" Congratulations to the Class of 2016! Queensborough Celebrates its 55th Commencement Ceremony
Published: June 03, 2016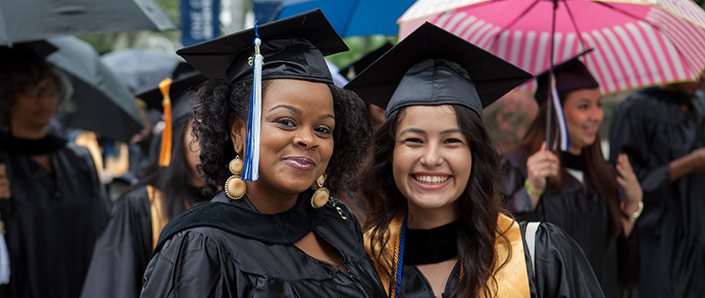 An overcast sky did not dampen the celebratory atmosphere as more than 2,500 graduates —representing over 132 countries and 78 native languages—gathered for Queensborough Community College's 55th Annual Commencement Ceremony on June 3.
Dr. Diane B. Call, President of Queensborough Community College welcomed graduates, their families and friends in Spanish, Mandarin, Creole, Korean, Farsi, Hindi and Urdu. Dr. Call exclaimed, "This morning you will all be official graduates of Queensborough!"
As cheers and applause followed, Dr. Call added, "Each of you has a personal story of courage, determination and sacrifice in achieving the dream of a better life for you and your families through your education. All of us salute your remarkable accomplishments!"
Among the many outstanding graduates recognized were members of the class of 2016 who received high honors.  
Jamal Cox: The Martin Luther King, Jr. Award for exceptional leadership in promoting racial harmony and appreciation of cultural diversity.
Jodi-Ann Grant: The 2016 John F. Kennedy Memorial Award for demonstrating outstanding college and community leadership.
Javred Fray:  President's Award for Outstanding Achievement in the Associate in Applied Science Degree. Mr. Fray graduated in January and currently attends New York City Technical College where he is pursuing a degree in computer systems.
Yi (Jane) Jiang:  President's Award for Outstanding Achievement in the Associate in Science Degree. Jane has begun a National Science Foundation summer research internship at U Penn. She will attend Queens College in the fall to continue her studies in physics and chemistry.
Keiana Caesar:  President's Award for Outstanding Achievement in the Associate in Arts Degree. Keiana was an Accelerated Program in Associate Studies (ASAP) student who graduated with honors in January and currently attends Baruch College, where she is studying political science and history.
The Honorable Toby Ann Stavisky, New York State Senator and ranking member of the senate higher education committee, is a longtime champion of The City University of New York. For her service and support, Senator Stavisky was presented with the Queensborough Presidential Medal, awarded only four times in the College's 55-year history.
"This medal honors your passionate advocacy over many years on behalf of our college—our faculty, staff and especially our students," said President Call.
Additional highlights of the ceremony included a salute to Queensborough's military veterans who were asked to stand and be recognized for their valor in protecting and preserving our way of life.
Greetings on behalf of the CUNY Board of Trustees were offered by The Honorable Rita Di Martino. Bringing greetings from the Chancellor was Allan Dobrin, Executive Vice Chancellor and Chief Operating Officer. Other remarks were given by Dr. Wilma Fletcher-Anthony, Member of the Faculty Executive Committee. Bringing greetings from the College's Academic Senate was the Chair of the Academic Steering Committee Peter Bales, B.A., M.S., Ph.D., Professor, Social Sciences and History. Bringing greetings from his fellow students was Mr. Ricky Panayoty, President, Queensborough Student Government.
Distinguished guests included New York State Senator Toby Ann Stavisky; David I. Weprin, member of the New York State Assembly and longtime friend to Queensborough.  Also, New York State Assembly-Member Edward Braunstein; Mr. Peter Tu, Executive Director of the Flushing Chinese Business Association and a founding member of Queensborough's Asian Community Advisory Board and Mr. Carl Gianatiempo, President of the Board, Friends of Veterans New York, Inc.
From the college: Sr. Vice President & Chief Operating Officer, Sherri Newcomb; Provost & Vice President for Academic Affairs, Dr. Paul Marchese; Vice Presidents Karen Steele, Michel Hodge, Rosemary Zins, William Faulkner and Denise Ward. Deans: Liza Larios, Arthur Corradetti, Glenn Burdi, Sandra Palmer, Brian Kerr, Laura Bruno and Jeff Chen.
Representing Queensborough's Fund Board of Directors was Mr. Gary Schulze and the President of the Alumni Association, Mr. Michael Conigliaro. Also recognized were the Chairpeople from the College's 17 academic departments.
Fifty years ago, Queensborough Community College celebrated its fifth commencement ceremony. This year the college celebrated the Golden Jubilee of the Class of 1966 and the silver anniversary of the class of 1991. Members of these classes travelled back to Queensborough to reunite with their former classmates and to congratulate the Class of 2016. Maxine Lamana-Fisher, Grace Heske, George Petrzelka, Barry Pulchin, Jean Scanlon, Ernest Schirmer, Dr. Susan Schwager, Howard Zern, Robert Kleepel and Ruth Freeman. The College also welcomed back the 25th Anniversary Class: Jane Collins, Carlos Pinargotte and Peter Ferrante.
###