Students Snag Awards and Proudly Represent Queensborough at Research Conferences
Published: June 28, 2017
Queensborough graduate Kristina Papacostas, now at Queens College, won the runner up prize for best poster presentation at the CUNY Research Summit: Women in Science and Engineering (WiSE) conference. Ms. Papacostas competed against 45 posters from women in science, technology,engineering and mathematics (STEM) across CUNY. In all, 15 Queensborough faculty and students represented the college at the WiSE conference which was held on Friday, June 9 at the CUNY School of Law. The conference is part of the University-wide Women in Science program which aims to contribute to establishing a community by providing women scientists with practical tools for building their careers, as well as opportunities for networking with colleagues and establishing mentoring relationships.
Kristina Papacostas
Professor Sharon Lall-Ramnarine had high praise for Ms. Papacostas. "I am delighted that my student Kristina Papacostas won the runner up prize for the best poster presentation. At the conference she presented alongside faculty (including myself!), graduate students and undergraduate students from both senior and community colleges. Kristina was ecstatic about winning the poster presentation prize. This experience has given her confidence when presenting her research and has motivated her to continue working hard in the lab."
Ms. Papacostas was a student in Professor Lall-Ramnarine's General Chemistry I laboratory class in fall 2014 and joined her research group in January 2016. She was selected to participate in a one-week mini-semester program at Brookhaven National Laboratory (BNL) in January 2016 and was awarded a ten-week $5,000 internship to do research there in summer 2016. She graduated from Queensborough in spring 2016 and transferred to Queens College, majoring in neuroscience. However, she has continued conducting research under Professor Lall-Ramnarine's guidance at Queensborough and is once again participating in a ten-week Summer Undergraduate Laboratory Internship (SULI) at BNL.
Shaina Durand
Shaina Durand, mentored by Drs. Monica Trujillo and Naydu Carmona from the Biology department, won the best abstract award at the Community College Undergraduate Research Initiative (CCRUI) Spring Colloquium in Minneapolis, Minnesota in April. Rawlric Sumner, also representing Queensborough at the CCURI conference, is mentored by Drs. Tirandai Hemraj-Benny and Sharon Lall-Ramnarine.  CCURI's mission is to support the development, implementation, and evaluation of undergraduate research programs at community colleges across the country.
"The CCURI conference was the first one Shaina attended and it provided her with a unique opportunity to be solely responsible for her research project," Drs. Trujillo and Carmona said. "She called as soon as the poster session finished looking to get feedback about questions she had been asked when presenting her poster. It was the first time she had to explain to others, all by herself, the details and rationale of her project. We were very pleased to hear that she had won an award at the CCURI conference, as was Shaina about the whole experience.
These types of conferences are crucial in the life of students interested in careers in the STEM disciplines. Scientific work relies on strict peer reviewing and it is essential for our students to be exposed to the need of understanding and explaining the how and why of their projects. Additionally conferences give them clues of what is next and how they need to prepare for the near future.​"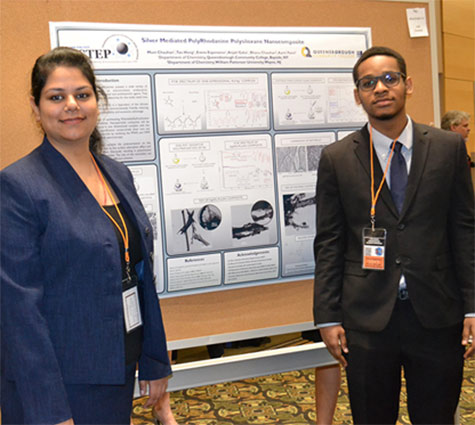 Anjali Gaba and Evens Esperance
In addition, Chemistry students Anjali Gaba and Evens Esperance won second place for their poster presentation in the Nanochemistry division at the Annual Undergraduate Research Symposium on April 22 at William Patterson University.
Notably, Queensborough was the only community college to present at the conference that otherwise included prestigious four-year institutions such as Fairleigh Dickinson, Seton Hall, Rutgers and St. John's. The symposium provides a setting for students to present their original research to professors and peers. Its collaborative faculty-student research approach advances knowledge in the sciences.
"I was overjoyed but not so surprised at the results," Dr. Moni Chauhan, Professor of Chemistry and mentor to Ms. Gaba and Mr. Esperance, said.  "My students worked very hard in the lab and accomplished research in the forefront of material research and nanoscience. Out students also prepared the poster and presentation with hard work, passion and enthusiasm.
It is not just winning an award at the conference, it also corroborates the mission of the college and the chemistry department to give students hands-on research experience in the lab. We also train students here to present the research confidently at prestigious conferences and among senior undergraduate and graduate students. This experience has led Evens to get in to the most prestigious National Science Foundation funded REU (Research Experience for Undergraduates) at The University of Pennsylvania over the summer with a fellowship of over $5000. Anjali started research last semester under my mentorship and I am positive that she will also win more awards and get a prestigious fellowship next summer."
The showing by our students and faculty at these research conferences demonstrates Queensborough's strong commitment to research-based education in the STEM fields.
Complete list of Queensborough presentations
WiSE conference
Zeynep Akcay

, Queensborough Community College re: Phase-locking and Bistability in Neuronal Networks with Synaptic Depression. Authors: Xinxian Huang, Farzan Nadim, Amitabha Bose.


Natasha Charles

, Queensborough Community College re: Rapid Prototyping using Fortus 450mc, High Capacity 3D Printer. Authors: Oscar Pais, Shahadat Hossain.


Margaret De los Santos

, Queensborough Community College re: The Determination of Gallic Acid present in Beverages via High Performance Liquid Chromatography. Authors: Julie Leong, Paris Svoronos, Soraya Svoronos.


Lormisha Clairvil

, Queensborough Community College and Queens College re: Use of synchrotron radiation to study Zn in plants. Authors: Lormisha Clairvil, Sunil Dehipawala.


Nidhi Gadura

, Queensborough Community College re: QCC MSEIP – A Three Tiered Model to Engage, Retain and Graduate Underrepresented STEM students, especially women. Author: Nidhi Gadura.


Jean Hwang

, Queensborough Community College re: Porous microspheres of polyaniline and poly (o-toluidine) prepared from W/O/W double emulsions. Authors: Jean Hwang, David M. Sarno.


Katherine Kim

, Queensborough Community College re: Polyaniline nanofibers as a scaffolding material for ruthenium nanoparticles. Authors: Katherine Kim, David M. Sarno.


Mei Sze Lai

, Queensborough Community College re: A new synthesis of pyrroles using the Caldogan. Author: Sasan Karimi.


Sharon Lall-Ramnarine

, Queensborough Community College re: Optimizing Ionic Liquid Properties Through Binary Mixtures. Authors: Sharon I. Lall-Ramnarine, Eddie D. Fernandez, Chanele Rodriguez, Sophia Suarez, Sujun Wei, Suraj Dhiman, James F. Wishart.


Julie Leong

, Queensborough Community College re: Determining Antioxidant Quantities Present in Commercially Available Beverages via the Folin-Ciocalteau Microspectrophotometric Analysis. Authors: Julie Leong, Margaret de los Santos, Paris Svoronos.


Kristina Papacostas

, Queensborough Community College re: Synthesis and Characterization of Imidazolium Fuorosulfonamide Ionic Liquids. Authors: Kristina Papacostas, Jasodra Ramdihal, Eddie Fernandez, Edward Castner, Surajdevprakash Dhiman, James Wishart, Sharon I. Lall-Ramnarine.


Jasodra Ramdihal

, Queensborough Community College re: Properties of Pyrrolidinium Fluorosulfonamide Ionic Liquids. Authors: Jasodra Ramdihal, Chanele Rodriguez, Edward Castner, Surajdevprakash Dhiman, James Wishart, Sharon I. Lall-Ramnarine.


Chanele Rodriguez

, Queensborough Community College re: The Effect of Lengthening Cation Ether Tails On Ionic Liquid Properties. Authors: Chanele Rodriguez, Rahonel Fernandez, Nicole Zmich, Eddie D. Fernandez, Surajdevprakash Dhiman, James F. Wishart, Sharon I. Lall-Ramnarine.


Xiaofang Megan Yu

, Queensborough Community College re: Imidazole as a Novel and Robust Gold Binding Group at STM-BJ Method. Authors: Xiaofang Megan Yu, Tianren Fu, Patrick Tuttle, Jiayi Xue, Latha Venkataraman, Sujun Wei.
CCURI conference
Shaina Durand

, Monica Trujillo, Naydu Carmona,  Phenotypical Characterization Ofa Streptomyces Coelicolor Sco3855 Knock Out Mutant, Queensborough Community College.
Rawlric Sumner

, Sharon Lall-Ramnarine, Tirandai Hemraj-Benny,  Novel Microwave Prepared Single-Walled Carbon Nanotubes-Ether Ionic Liquids Mixtures As Electrolytes For Dye-Sensitized Solar Cell Applications, Queensborough Community College
William Patterson University Research Symposium
"Silver mediated Polyrhodanine Polysiloxane Nanocomposite"
Authors: Moni Chauhan1, Tao Hong1, Evens Esperance1, Anjali Gaba1, Bhanu Chauhan2, Aarty Patel2.
1 Queensborough Community College
2 ​ William Patterson University
###