Chemistry Students Honored with Top Awards at Annual NYACS, National Chemistry Week Event
Published: October 25, 2018
Queensborough Community College students were squarely in their element at the annual New York American Chemical Society (NYACS) National Chemistry Week (NCW) event, held at the New York Hall of Science in Corona, Queens, on October 21.
The Queensborough team of about 40 students took top awards at the event: Best Theme-Inspired Demo, Largest Group and Best team Award for Supporting Program Functions. This is the second year in a row that Queensborough has received these distinguished awards.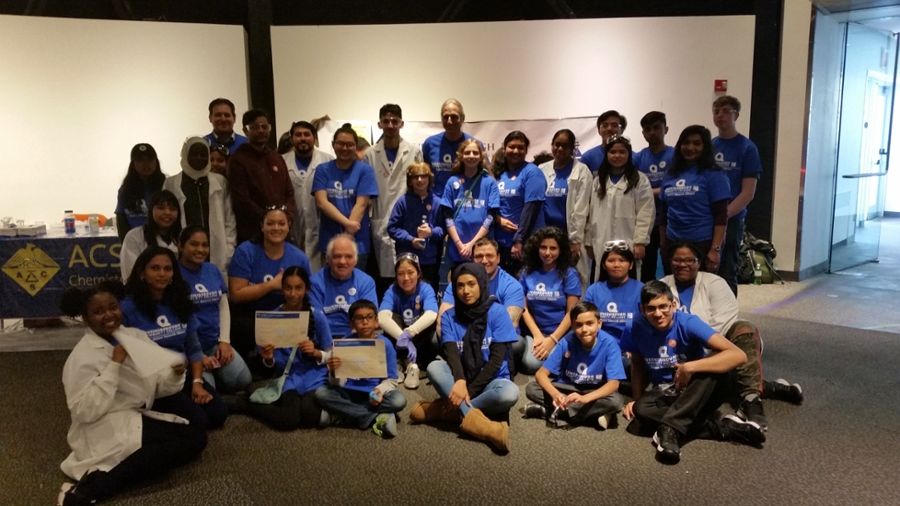 National Chemistry Week is an annual event organized by the American Chemical Society (ACS) to build awareness of chemistry and promote its value in everyday life at the local level. Each year, the ACS sets a different theme. This year was Chemistry is Out of This World. Approximately 20-25 schools and local businesses participate each year by setting up demonstrations and hands-on activities for all the attendees, typically 200 children and adults.
Dr. Tirandai Hemraj-Benny, Associate Professor, Chemistry, was a mentor for Queensborough's chemistry team. "This unique opportunity gives our students a chance to explore and teach chemistry concepts they have learned in the classroom to elementary students and their families in our community. It is a rewarding challenge to devise kid-friendly experiments using everyday items such as marshmallows, nail polish, and rocks with my colleagues in the Chemistry Department!"​
Since 2012, approximately 30 students and 3-6 faculty members from the Chemistry Department represent Queensborough at the event. Three student clubs, Science Research Alliance, Chemistry Club, and the Student Affiliates of the American Chemical Society, plan experiments and activities, recruit Queensborough student demonstrators, and organize training sessions.
Additional mentors guiding Queensborough's chemistry teams this year were Dr. Paris Svoronos, Professor, Chemistry; Dr. Sharon Lall-Ramnarine, Professor, Chemistry; and Dr. Paul J. Sideris, Assistant Professor, Chemistry.
Dr. Sideris, who has participated in the NCW event since 2012, has served as a co-advisor for the Science Research Alliance since 2013. "Every year I am reminded of how well our students can "run the show" at the New York Hall of Science and communicate with the general public."
There were a total of 18 institutions at the event. Queensborough Community College, Guttman Community College and Bronx Community College represented The City University of New York (CUNY). The other colleges included Columbia University, New York University, Hofstra University, Pace University, Adelphi University, Stony Brook University, College of Mount Saint Vincent, St. Joseph's University, St. John's University and Barnard College. The senior colleges shared about ten awards between them.
"This was an incredible experience for our students as they demonstrated once again that they are on a par with four-year students in a scientific environment," said Dr. Svoronos.
"I am ecstatic to see us win so many awards," remarked Dr. Lall-Ramnarine, who, along with Dr. Hemraj-Benny, initiated Queensborough's representation at this event back in 2011, with help from chemistry colleagues Drs. Irina Rutenburg and Julie Pigza. At that time Queensborough started with five students and our families. This is a wonderful event that allows us to engage our students and families in the fun side of chemistry while interacting with the community. Over the years Drs. Sasan Karimi, David Sarno and Sujun Wei have also regularly attended and participated. We have been supported by our chemistry laboratory technicians, Pete Irigoyen, Andrew Xu and Bruce Montalbano, and various offices at the College, to prepare demonstrations and offer giveaways. Our tables are always popular with the K-12 audience. Our faculty invests a great deal of time before the event practicing the experiments with our student volunteers."
###