NSF-REU Scholarships Offer Promising Paths to Careers in Science
Published: May 16, 2019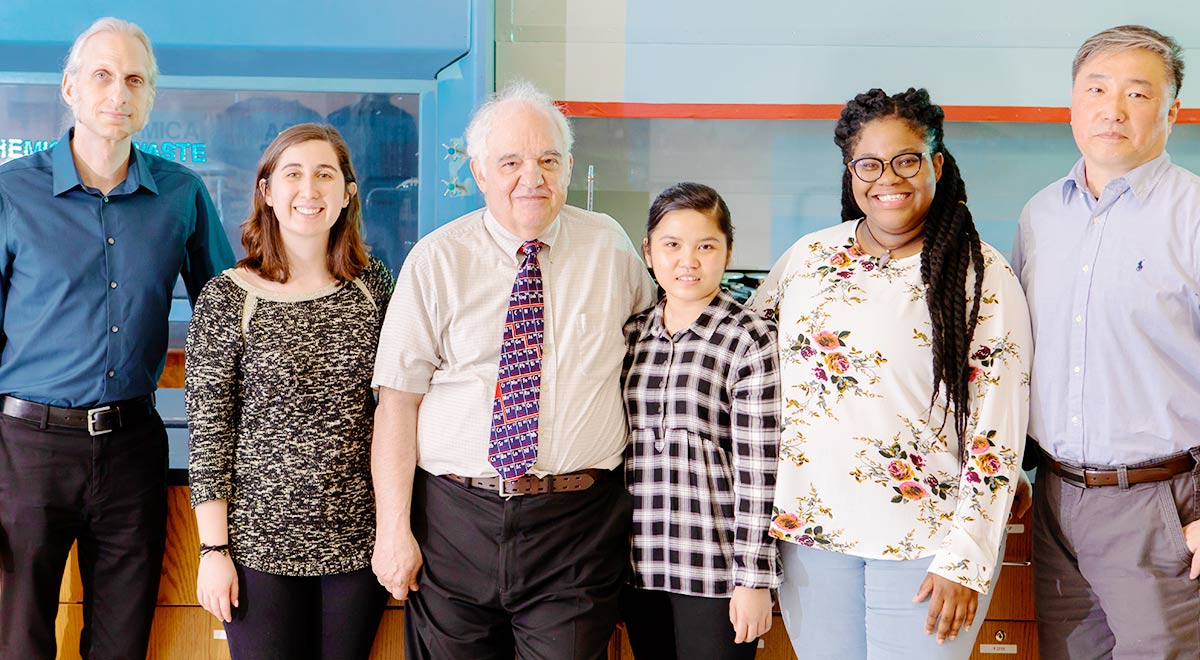 Three STEM students have each been awarded paid summer 2019 National Science Foundation-Research Experiences (NSF-REU).
Keiann Simon, who will graduate this month with an A.S. degree in Forensic Science, will attend UPENN where she will conduct undergraduate research on constricted migration of cancer cells. She will transfer to John Jay in the fall. 
Keiann hails from the Caribbean country of Guyana. She comes from a family of strong women, especially her mother, who was the highest ranking female in the Guyana army. Keiann was inspired by her mother to explore her own interest in the judicial system, specifically forensic science, and so took an internship in the Forensic Lab of the Criminal Investigation Department in Guyana. Keiann enrolled at Queensborough in the fall of 2017 where she continued her passion for forensic studies. She plans to one day open her own Forensic Science firm in Guyana.
News Flash! Keiann Simon has been selected to become a scholar in the American Chemical Society's Scholars Program. She was one of 120 scholars chosen from across the country. To qualify for this award, students must have an outstanding academic standing and demonstrate a strong record of American Chemical Society research and professional conference presentations. She researched at Vanderbilt University last summer as a REU student, and will continue her undergraduate research at University of Pennsylvania this summer.
Megan Pirtle, a liberal arts major with a focus on math and science, came to Queensborough after obtaining her bachelor's degree in behavioral psychology from Keene State University in New Hampshire. There she worked for three years as a full-time research assistant in psychiatry at North Well University Hospital where she studied children with bi-polar mental illness. Her interest in psychology turned to the physiological brain imagining aspects of the brain and she decided to return to school. A friend at Queens College recommended that she apply to Queensborough because of its strong programs in the sciences. Megan, who will graduate in January 2020, was also accepted to the 2019 summer NSF-REU at UPENN. Her research will explore NC heterostructures.
Chemistry major Pamela Joy Tabaquin will graduate in winter 2019. At Vanderbilt University, Pamela will conduct research on methods in analyzing, investigating and integrating PSI with carbon-based electrodes, and measure the resulting photocurrents of these systems. Pamela's quest for a college education was swift and successful. She came to the U.S. from the Philippines in March 2016, and enrolled at Queensborough in fall 2017. Pamela was on the Dean's List for spring and fall 2018, and she is a recipient of the International Scholar Laureate Program. Pamela is expected to present her findings orally at the end of this summer opportunity and at professional American Chemical Society conferences later in the year.
Brief background:
There is a driving force to encourage Queensborough's students to apply for the NSF-REU. This effort involves multiple edits of statements, submitting reference letters, and communication with the directors leading the NSF-REUs. Dr. Paris Svoronos, Professor of Chemistry, guides these students from their first courses in chemistry, to their research mentors, Dr. David Sarno and Dr. Jun Shin, and arranges their internships, and provides opportunities to participate in regional and national conference presentations.
Each year about 200 applications are submitted for NSF REU summer internship opportunities that are awarded to a post undergraduate science institution. Approximately 12 internships in each program, are awarded mostly to juniors and seniors at four-year colleges. Community college students are rarely awarded such a prestigious opportunity.
###