Nursing Students Cultivate their Curiosity at Stone Barns Center for Food & Agriculture
Published: October 16, 2019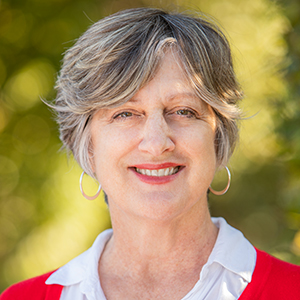 Lorraine Cupelli has been exposed to farming all her life.
She was brought up in Queens where her family grew a variety of fruit and vegetables in their small backyard.
"My father had once been a farmer and instilled in me the joy of tasting tomatoes off the vine and eating freshly cut cucumbers."
Cupelli, an Associate Professor in Queensborough's department of Nursing, has been teaching Fundamentals of Nursing since 2009. Her resume in gardening is varied and impressive. She has pruned vines at her uncle's house in Virginia, maintained a large garden at the family's second home in Long Island, and volunteered at Quail Hill Farms in East Hampton, where she said, "I have never worked so hard in my life!"
Recently, she took her nursing students to the Stone Barns Center for Food & Agriculture in Pocantico Hills, New York. There her students took part in a six-hour immersion program to broaden their preconceived notions of 'good' food.
"This experience was not just about the content of food itself but also the techniques used to produce good food— the quality of the soil, the biodiversity of organisms in the soil and how to maintain sustainability and equity in the face of climate change."
This field trip marked many firsts: It was Queensborough's first time to participate in the Stone Barns Center immersion program. It is also the first time that any CUNY school has visited the Center and the first time that nursing students have visited the Center. Other visits have traditionally been medical students and residents from Yale University, Columbia University, Albert Einstein College of Medicine and Montefiore Hospital.
Queensborough's nursing students walked the fields as they talked with farmers and the director of pasture management; explored the greenhouse, and visited the baker's kitchen where they learned more about how global warming and industrialization has affected our food supply.
The day culminated with a meal served at the Blue Hill at Stone Barns restaurant where guests are offered a multi-taste feast featuring the best offerings from the field and market.
"Our nursing students reflect the mission of sustainability through the lens of equity. They hail from all over the world and speak dozens of different languages at home. Many of them live in Queens, considered one of the most diverse counties in the country. Nursing students will have multiple interactions with these diverse populations. Poor nutrition is related to higher rates of obesity and chronic diseases. Our student-patient interactions will be opportunities to educate about the nutritious potential of farm fresh food and the impact on health."
###