Queensborough Volleyball Takes Five
Published: October 22, 2019
No. 1 seed Queensborough Community College (19-5) won the CUNY Athletic Conference / Pepsi Women's Volleyball Championship on Monday night for the fifth year-in-a-row, sweeping the No. 2 seed Borough of Manhattan Community College Panthers 3-0 (25-19, 25-15, 25-14), on their home court in the two teams' fourth straight CUNYAC finale battle.
Leading the way for Queensborough in the final was sophomore, and Captain, Pagie Hughes with six kills, five digs and one serve ace en route to CUNYAC Championship Most Valuable Player honors.  "Paige is someone who does so many things on the court that isn't shown statistically. Her communication, her energy, her drive, is what carries her. Obviously, she's a great hitter, a great passer, but those things that don't show up, is what makes her special and what helps her lead." said Queensborough Head coach Jason Demas.
Along with Hughes, freshman middle-hitter, Bianca Brierre, tallied 13.5 points for the match, ending her night with a game-high 12 kills (.455 hitting percentage) with three digs. "We had so many people injured throughout the season, we had so many people step up, we're confident in each other to do that. We feel whoever gets the ball, they're going to put it down." Hughes said.      19521
The Panthers (9-9) were led by sophomore Nolverys Fernandez with eight kills and 12 digs, while setter Kaylin Nieves has 13 assists and nine digs in the championship match.
Defensively, the well-balanced Tigers continually stopped any momentum the Panthers tried to build throughout the match, with 59 total digs, 20 coming from sophomore Rachel Medina, and another 12 from sophomore Michelle Sosa. With the CUNYAC title in their hands, the team will now turn their attention to the upcoming NJCAA Region XV Tournament beginning this Thursday.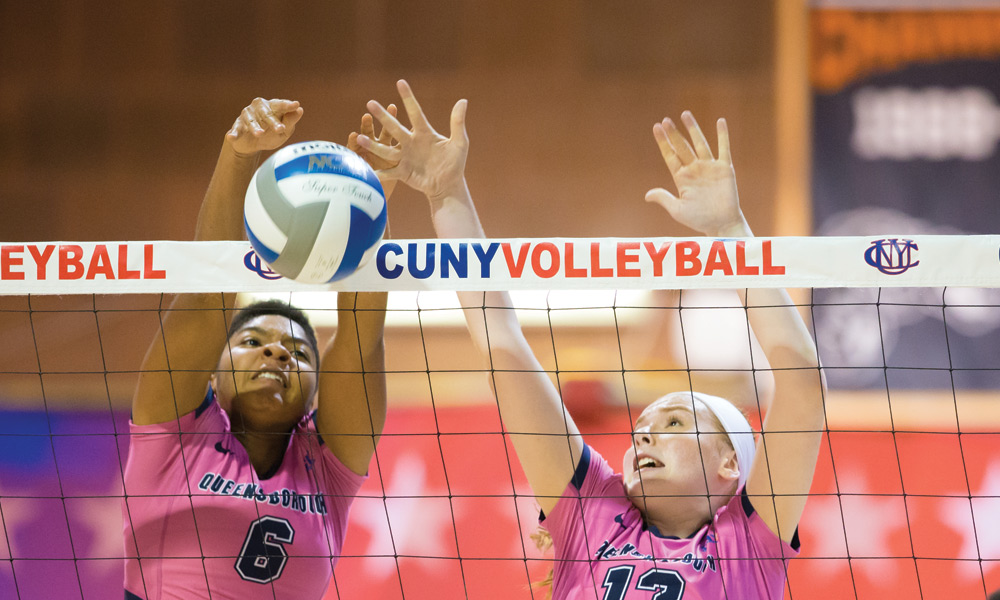 "Region XV is probably the toughest it's ever been," continued Demas, whose focus for the Tigers will be winning the Regionals to get a chance at Nationals for the fourth straight year. "That's our focus right now, we try to do one game at a time… Our goal is to get back to Nationals. We have a lot of talent, we had five different Players of the Week every week, and it really tells how talented the roster is." Demas concluded.
CHAMPIONSHIP BOXSCORE
2019 CUNYAC / Pepsi Community College Women's Volleyball All-Tournament Team
Paige Hughes, So, OH, - Queensborough (Most Valuable Player)
Bianca Brierre Fr, MH, - Queensborough
Georgia Alexiou,So, RH, - Queensborough
Lauren Malcolm, So, MH – BMCC
Nolverys Fernandez, So, OH – BMCC
Kinga Kupras, So, MB, - Kingsborough
Nayely Rodriguez, Fr, OH/S – Bronx
Semifinals - #2 BMCC 3, #3 Kingsborough 1
Read more at https://cunyathletics.com/news/2019/10/22/cc-womens-volleyball-queensborough-conquers-c-c-volleyball-for-fifth-consecutive-ttitle.aspx
###

Contact:  Mike Donahue