College and community now for Clementina
Published: June 03, 2020
Clementina Regalado, a student in College Now at Queensborough Community College and a graduating Benjamin Cardozo High School senior, has been awarded a CUNY College Now Myself Third: Spirit of New York Scholarship, one of only two granted each year, valued at $5000.
The Corona resident and dedicated community volunteer, who studied Theatre and Criminology through College Now, will apply her award to full-time enrollment at one of CUNY's colleges in the fall.
"I never thought I could win. I mean two students from all of New York City?" said Regalado. Her name means gifted and capable.
"I received the notification and never felt that feeling before in my life. I was so emotional and happy. The hard work and studying was all worth it," Regalado explained from home, weeks after caring for her coronavirus-stricken mother and brother.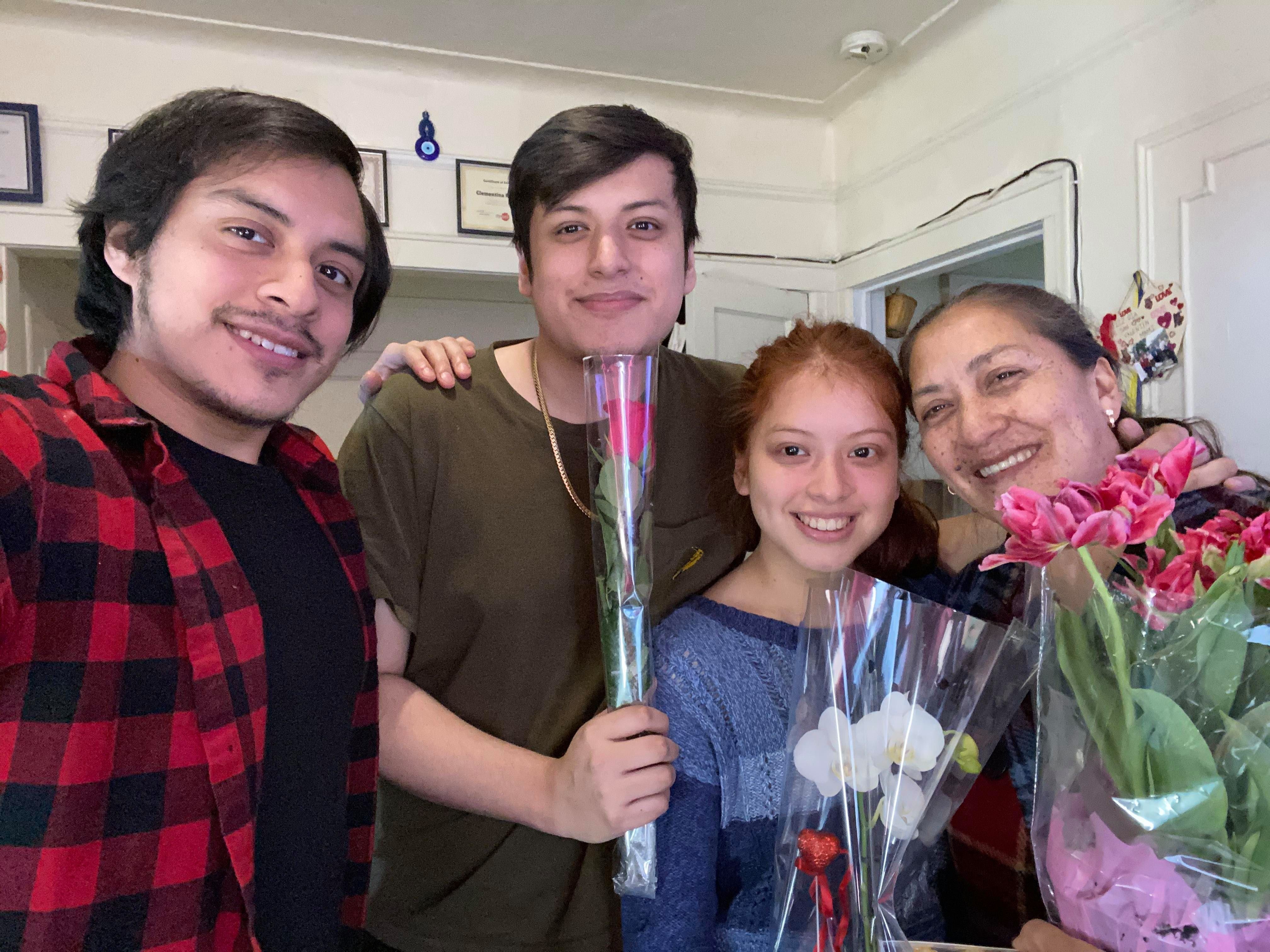 Picture: Clementina, with her brothers Gustavo (next to her, who had Covid-19) and Robinson, and mother, Maria Tene.
"I lost 15 pounds, between working (at Walgreens), school, and looking after them. They were so sick," she added, waiting to hear if Cardozo would have a formal graduation ceremony in June.
College Now is a free college transition program offered for NYC public high school students at Queensborough and 17 other CUNY campuses. In partnership with the New York City Department of Education, CUNY College Now helps students earn college credits, or become college ready, before graduating from high school. The program also promotes knowledge about college access and career-awareness.
"We are thrilled that Clementina earned the Myself Third Scholarship," said Mary Anne Meyer, Director of the College Now Program at Queensborough.
"This scholarship is one of the many opportunities afforded students who participate in CUNY College Now Programs. It's more than earning college credits. Students get a complete college experience from visits to the Kupferberg Holocaust Center at Queensborough Community College and the QCC Art Gallery to information literacy sessions delivered by Queensborough's Library and Writing Center. That all adds up to better prepared college students," explained Meyer.
More than 26% of Queensborough Community College freshman are College Now alumni.
The Myself Third Scholarship, made possible through a generous gift provided by City College alumnus, Robert Friedman, was established in 2002 in tribute to those who participated in the rescue effort following the World Trade Center tragedy. It aims to encourage and reward leadership and civic involvement of high school students.
Regalado, a first-generation college-bound student and daughter of Ecuadorian immigrants, said accessible education was vital for understanding cultural differences, worldviews and overcoming disagreements among people of all nations and religions.
"I want to stay informed because the more informed I am, the more powerful I become filtering out disinformation which is one of the biggest issues [especially] with the digital world," the future biologist and hopeful veterinarian, wrote in her scholarship application essay.
Cardozo guidance counselor Ms. Paulette D'Angelo describes Regalado as kind, intelligent, compassionate and diligent.
"College Now offers Clementina and students all across the city an opportunity to achieve up to 12 college credits for free. It exposes students to the college experience and makes the transition from high school to college a lot less stressful. I am so proud of Clementina and grateful to Queensborough and CUNY for granting her this very well deserved scholarship."
As an after-school mentor to teenagers and young children, Regalado served as a Youth Ambassador at the New York Hall of Science (NYSCI).
"Her impact at NYSCI was profound… [She created] meaningful interactions and strong engagement among local families," said Iram Jabbar, manager of NYSCI's Youth STEM Initiatives.
Regalado finds community volunteering, which she started at age 14, extremely rewarding.
As a member of New York Police Department Explorers, which introduces young people to careers in law enforcement and criminal justice, she worked to strengthen ties between the community and police. She is also a volunteer to the elderly and infirm.
"I try to make women with dementia and Alzheimer's feel safe and cared for by giving them manicures and makeovers," Regalado explains, describing her close association with GlamourGals, a program that inspires teenagers to become companions to seniors living in residential care.
Regalado, whose high school trip to Japan was cancelled in March because of the worldwide Covid outbreak, will build on her recent success with an on-line digital design course hosted by Cooper Union College this summer.
Picture: Clementina, at a GlamourGals conference.
In between volunteering and studying she will steal some time away to binge on tele-novellas with her mom, who has now recovered from the virus.
"My Queensborough College Now experience provided unexpected opportunities for me. It helped prepare me for college and the scholarship has opened doors for me at CUNY. I'm working and I'm saving and looking forward to the fall."
Regalado will participate in an online Queensborough College Now award ceremony on June 9.
###

Contact:  Michael Donahue or Alice Doyle