President's First Year Celebrated
Published: August 17, 2021
Queens Borough President Donovan Richards surprised Queensborough Community College President Dr. Christine Mangino today (August 17), by commemorating her first year of service to the College with a proclamation and a visit to the campus, as the College welcomed faculty and staff back for the start of the fall semester.
"Dr. Mangino is an esteemed educator, pedagogical scholar, and advocate of student-centered learning. [She] has brought to Queensborough enthusiasm, excellence, and commitment, and is providing our borough's residents with access to life-changing educational opportunities," Borough President Richards said.
"I know Dr. Mangino to be a champion of student success. She is known for her innate ability to build community partnerships and she is grounded in a strong belief that community is the foundation of Queensborough," the Borough President added.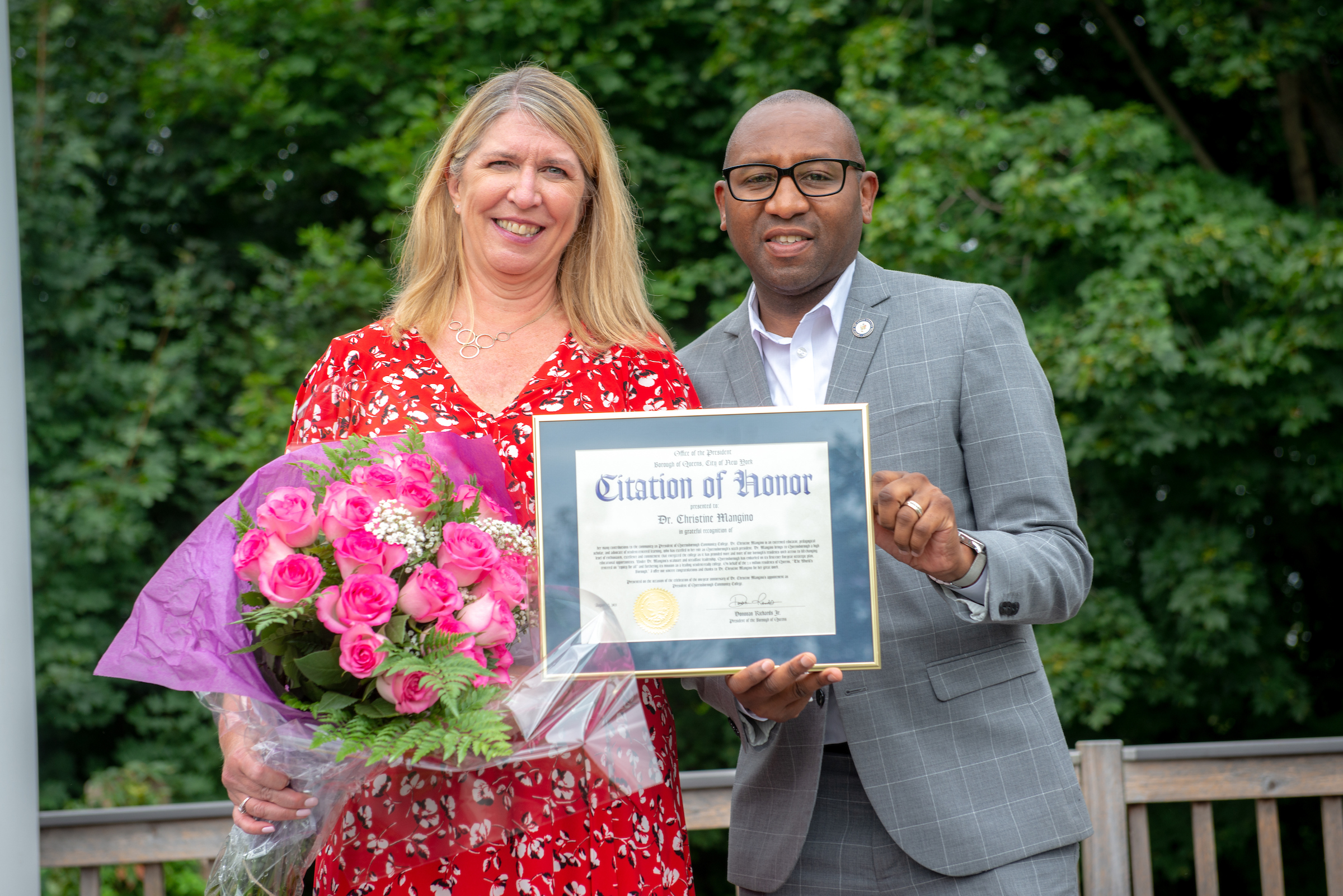 Queensborough Community College President Dr. Christine Mangino with Queens Borough President Donovan Richards.
Dr. Mangino, a first-generation college student, developed her interest in championing the mission and success of community colleges from her experience as a student at Nassau Community College. She earned her Bachelor's and Master's degrees in Education from Hofstra University, and later, a Doctoral degree in Instructional Leadership at St. John's University.
"It was such a highly unusual environment in which to get to know everyone and to understand the culture of the college when I started because of the nature of COVID-19 and our time away from each other. But I want to say how warm, welcoming, and amazing you all are in person. Zoom does not do you justice. Thank you for doing everything you do to support our students," said Dr. Mangino
CUNY Chancellor Félix V. Matos Rodríguez noted that Dr. Mangino's personal and professional experiences had shaped her steadfast commitment to education.
"Christine Mangino is driven by a deeply held belief in the importance of community colleges, along with her invaluable prior service at CUNY as an educator and administrator," the Chancellor said.
Prior to her appointment as President of Queensborough, Dr. Mangino served as Provost of Hostos Community College. Under her leadership there, the college increased its three-year graduation rates by nearly 15 percent, boosted the number of faculty of color by six percent, and expanded online offerings by five percent. The college was recognized in 2015 as a Top Ten institution for the Aspen Prize for Community College Excellence.
Noted throughout her career for her leadership in operational planning and improved student outcomes, Dr. Mangino is a stalwart of diversity, equity, and inclusion in higher education. Under her leadership, Queensborough has embarked on its first-ever five-year strategic plan, centered on "equity for all" and furthering its mission as a leading student-ready college.
END
###

Contact:  Michael Donahue or Alice Doyle