Undergraduate Research Day
The 7th Annual Undergraduate Research Day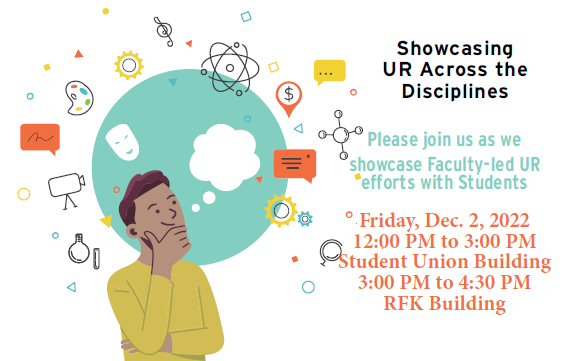 Click here to view the Program Book.
Poster presentations  held in-person on campus
All faculty engaging students in all forms of UR were encouraged to participate with their students.
Poster Presentations featured Undergraduate Research in all disciplines and all modalities (one-on-one apprenticeship model, research courses, research in the classroom). 
Hosted by the QCC Office of Research, the Undergraduate Research Day planning team (Dr. Andrew Bulawa, Dr. Sarbani Ghoshal, Dr. Urszula Golebiewska, Dr. Sharon Lall-Ramnarine, Dr. James Nichols, Dr. Rommel Robertson, Dr. Meg Tarafdar, Dr. Zhou Zhou) and the Research Committee

Videos of past in-person UR Day Events:
2022 UR Day Agenda
10:00 Registration and Poster set-up, Student Union Lobby
12:00 Welcoming Remarks, Student Union Lobby
Dr. Sharon Lall- Ramnarine, Faculty Fellow for Research Activities, Academic Affairs
Dr. Christine Mangino President, Queensborough Community College
Dr. Sandra Palmer, Provost & Vice President, Academic Affairs
Dr. Urszula Golebiewska, Campus Co-Coordinator, UR as a High Impact Practice (HIP)
Dr. Ron Nerio, Research Programs Director,  CUNY Office of Research
12:30 Group Photo (Stairs between Library & Administration Buildings)
12:45 - 1:45 Poster Session I - Student Union Lobby
1:45 Undergraduate Research Programs at QCC 
Research Program Directors 
2:00 - 3:00 Poster Session II & Networking Social
Same posters as in Poster Session I

2:00 Welcome from the Student Government Association
Silvia Quinonez-Lee, Vice President of SGA
3:00 Undergraduate Researchers LinkedIn group
3:00 Theatre, Dance & Music Presentations, Dance Studio, Room 214, RFK Building
2021 Undergraduate Research Day
The 6th Annual Undergraduate Research Day: Showcasing UR Across the Disciplines
This event showcased 68 faculty-mentored undergraduate research projects across 17 departments at the college. It provided an opportunity for faculty at Queensborough to showcase the range and depth of the research projects in which they engage our students. The conference gave 100 undergraduate students mentored by 57 mentors an opportunity to present their research activities in various fields.

In addition to providing the experience of presenting research, the conference was an opportunity for the college community to learn about research carried out by other students and faculty. It also provided information on the various programs and opportunities on campus that provide funding and support for students and faculty to engage in undergraduate research. 

Although, we continued to be faced with many challenges in conducting research in a traditional setting our dedicated faculty went above and beyond to continue to mentor and engage students in research experiences. We commend our student researchers for recognizing the value of these opportunities and for their perseverance, dedication and hard work on their projects and presentations.

The college is proud of our faculty mentors and students participating in undergraduate research activities, and we are pleased to offer each of you the opportunity to participate in this excellent learning experience. 
2020 Undergraduate Research Day
The 5th Annual Undergraduate Research Day: Showcasing UR Across the Disciplines
Over 200 people attended UR Day via Zoom.
Thank you for attending our 5th Annual Undergraduate Research Day — a day that we set aside each year to celebrate the achievements of our dedicated students and faculty mentors.
Engaging in undergraduate research is always a challenging endeavor, but never as much as this year. In March, we were faced with the reality of not being able to meet in person for the foreseeable future. Our minds became focused on our health and the health of our loved ones. We were forced to transition to online teaching and learning. Many of us were accustomed to research projects that involved laboratory benchwork, museum visits, and in-person meetings. How could we continue with research while facing so many other challenges and distractions?
Despite these seemingly insurmountable obstacles, our devoted faculty got to work adapting their UR projects to an on-line format. Through their efforts, students have continued to stay connected to research in several ways. These include conducting extensive literature reviews, collecting survey data, using on-line tutorials/simulations, and several other methods. Projects have utilized museum archives, case studies, field observations, and remote data analysis. This year's presentations are a testament to the success of adapting research to the remote format. In the process, we have made great strides in our technological skills. More importantly, we learned about perseverance, creativity and flexibility in our approaches to research.
2019 Undergraduate Research Day
View the 2019 Undergraduate Research Day Photobook

Group Photo of Undergraduate Research Day 2019
2018 Undergraduate Research Day Program
2018 UR Day Group Photo
2017 Undergraduate Research Day
2016 Undergraduate Research Day
Undergraduate Research Day at Queensborough Community College Story
Students presented a total of 80 posters at the Undergraduate Research Day conference, providing a showcase of Queensborough's faculty-led undergraduate research efforts across the disciplines. The event, held on December 9 in the College's Student Union, was spearheaded by Dr. Sharon Lall-Ramnarine, Professor in the department of Chemistry. Approximately 150 students, faculty and staff attended the event.
Additional organizers were the College's Undergraduate Research Committee, the Community College Undergraduate Research Initiative (CCURI) team and the Center for Excellence in Teaching and Learning (CETL).  Queensborough recently partnered with CCURI, which incorporates undergraduate research into community college curricula to engage students at the beginning of their academic career. (Read the news story on the college website)
Get information on:
Research Opportunities at QCC

Student Accomplishments